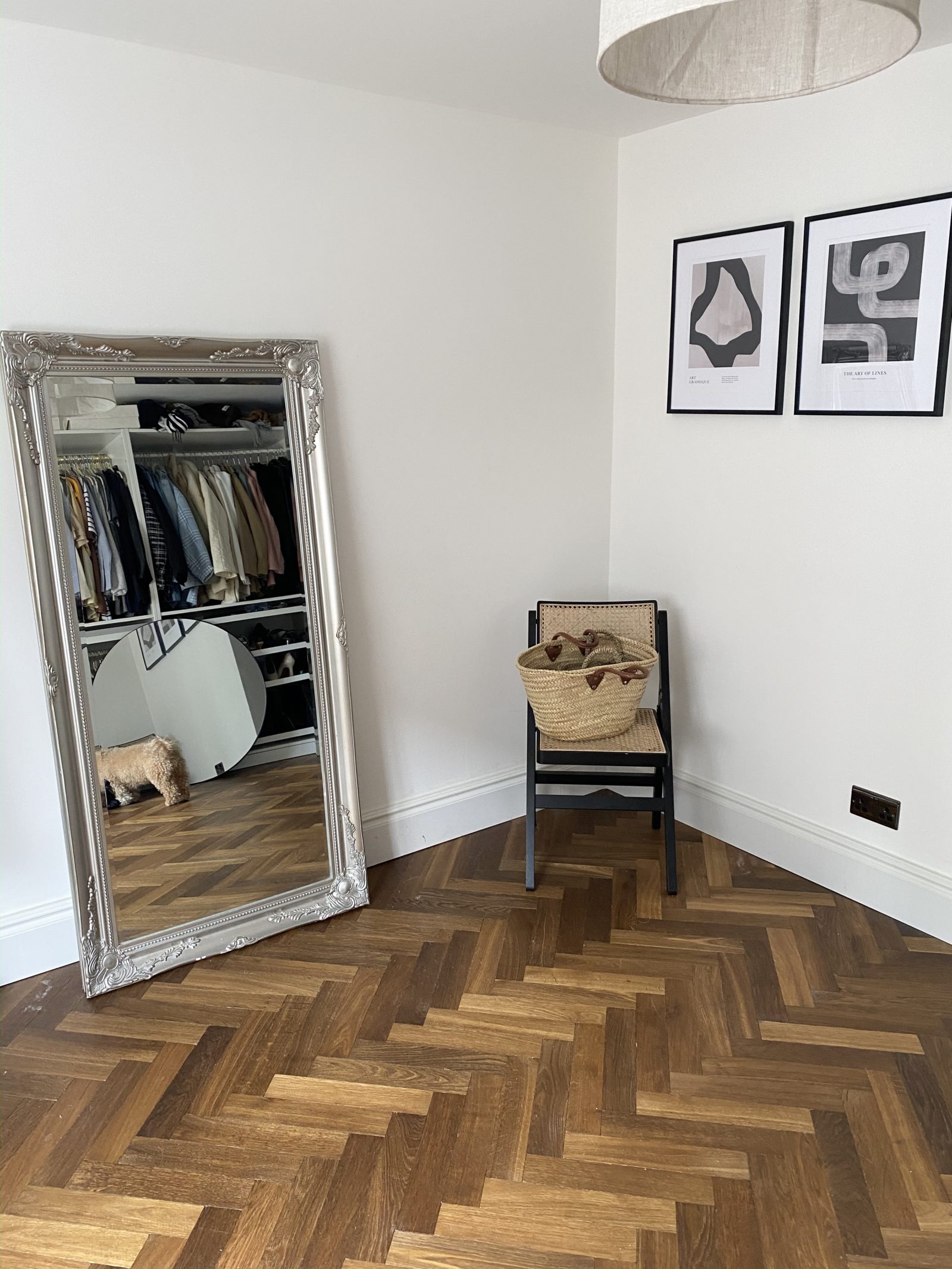 Hey guys!
It's been a while since I did a home update over here so I thought it was about time that I gave you the run down on one of my favourite rooms in the house, the infamous wardrobe room! If you prefer video content theres a youtube video with a little tour and a step by step of what and how we did the room which you can watch here! If not, keep reading!
This post is part of a paid partnership with Desenio (This post contains affiliate links)
New Home Decor / Desenio Gallery Wall
Since me and Jack have lived together I've always managed to luck out in having a wardrobe room with the excuse that i need an "office" if I'm working from home. Well this time I finally admitted that the room was for the clothes and filming and got rid of the desk all together, it was taking up valuable bag and shoe space guys. We completely re did the floors and walls as the situation beforehand was less than desirable, a stained cream carpet and dark blue walls. As you may have guessed from my other rooms in the home, I'm a fan of light, bright, neutral spaces. So we went with white on the walls (dulux trade brilliant white for anyone who is interested) and the most incredible parquet wood flooring.
The wardrobes were the Ikea PAX system which we chose for the infinite storage options and I discuss this in a lot more detail in my wardrobe tour video here. I'm still in search of the perfect doors so if you think you know some then please do let me know!!! Finally we have the rail for my new in and this gorgeous mirror for those all important mirror selfies and a chair for, well, it's a prop ok.
I always think when it comes to decorating, and honestly it has been confirmed to me since doing our new home, it's the small touched that really make a house a home. Things like a nice lampshade or some art on the wall really help to bring the home together perfectly. You may remember from my living room and well, any home I've lived in in the past, that I am a huge fan of Desenio gallery walls and just their art in general. When I say Desenio Gallery Wall, I kind of go off of the norm as I've never been one for the higgledy piggledy look in my own home though I can admire it in others and there are some great ideas for ones here or on Desenios instagram account.
I usually prefer something more along the lines of my home decor taste, simple and pared back. So for the downstairs living room I went for 4 prints that were in the same style and colour palette with only minor differences, and i wanted something similar but not the same upstairs. I chose these prints because they're lovely and neutral and simple without being completely black and white which I find can be quite cold and remember I'm wanting to create a more homely feel! I also added a mount to each of the pictures. Though most posters on the Desenio website are super affordable, I always find getting a mount (which they also sell on Desenio) can make an ordinary poster all of a sudden look like a piece of art. I'm super happy with the way they turned out, I was torn for a couple of weeks on whether to hang them in a line horizontally or vertically but i decided that this worked perfectly and if we decide to make this into a bedroom one day, they would hang beautifully above the bed.
I would love to hear your thoughts on the room and our choice in prints for our Desenio Gallery Wall! I always feel that someones choice in prints is so personal. I can see how my home decor style has evolved over the years from the prints that I've chosen. Two years ago I was loving maps and quotes, last year I had LA photos of palm trees in pastel colours in our London flat, and now I have landed on these beautiful illustrations that are more like art. Which would you choose? See the full collection here!
SHOP THE POST
Print 1 : Here
Print 2 : Here
Print 3 : Here
Mount : Here
Frame : Here
Chair : Here
Mirror : Here
Rail : Here
Lampshade : Here
Curtains : Here
PS YOU MIGHT LIKE Gucci Loafers Review OR 9 of the best pieces online right now
Click here to check out my LTK and shop my daily outfits!