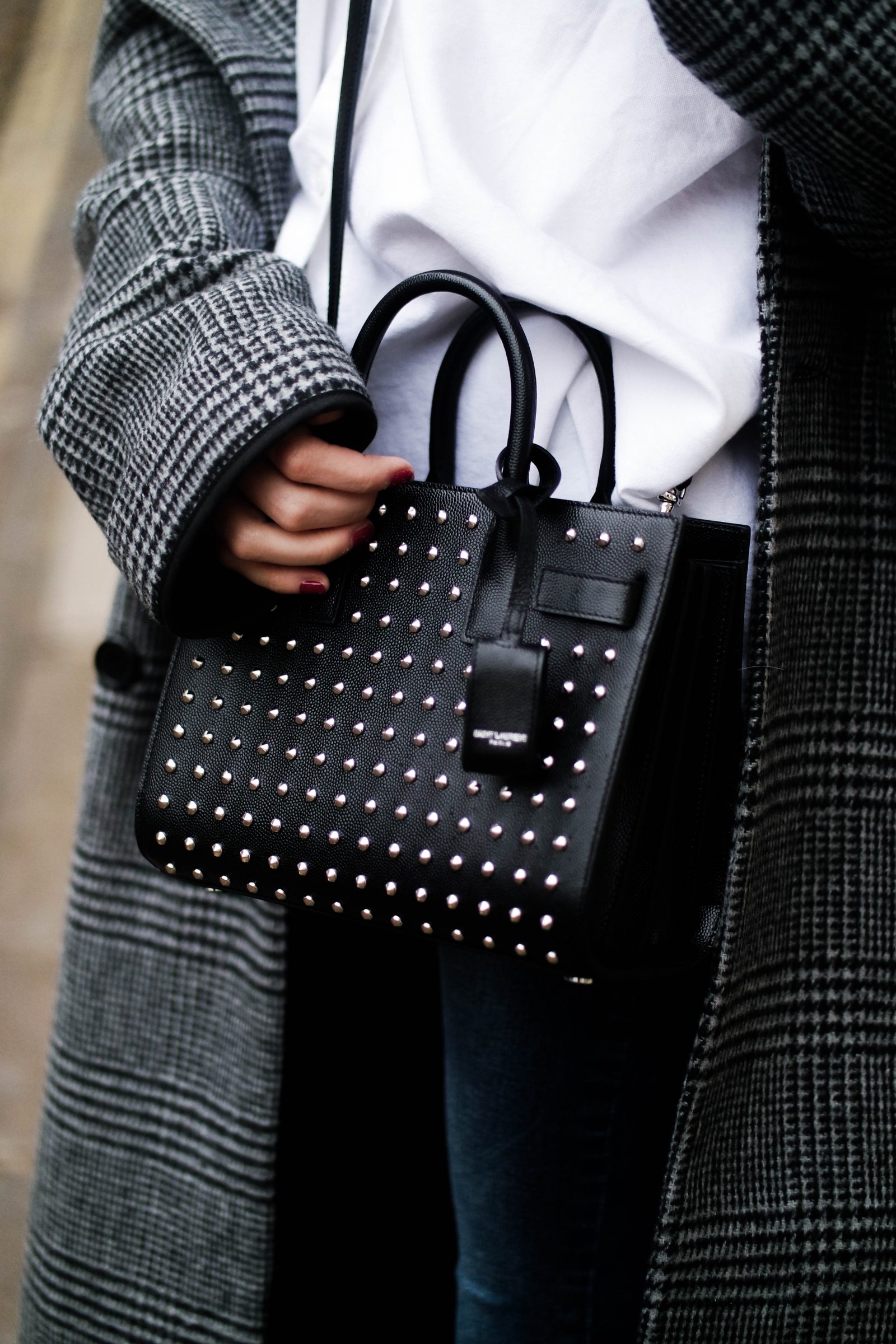 Let me start this post by saying that when I got an email drop in my inbox from Bicester Village inviting me to work with them . . I died. As someone who regularly A) swoons over designer pieces and B) visits Bicester Village, this was a big deal.
Luckily my visit co-incided with LFW so I knew I wanted something I could style up with all of my outfits. A statement piece that would not only take me through LFW but also through life.
Shop The Post
Meet Saint (Laurent)
I started at Gucci, duh and moved on to Chloe, naturally. Next was Givenchy, Celine, Prada, Dior, Coach, Bally, Mulberry, Michael Kors and finally Saint Laurent. I knew I'd find something there, whenever I go to Bicester Village the shops are hit and miss, as with any outlet's, it's all down to the stock on the day. However, I have never been in that Saint Laurent store and not wanted to leave with something. Anyway, I'm going to talk to you more about the village in a minute because . . the bag.
When I arrived at the village I had two pieces in mind that I might want; a bag or some shoes. Either way it had to be statement and it had to be an investment. I'm not one to splurge on designer pieces often so I wasn't looking for something just for the occasion, I was looking for the one.
After visiting Gucci and not finding the fur lined loafers of my dreams (a girl can dream right?) I fell half in love with a large, black, studded Antigona in Givenchy. I say half in love because I thought I was in love, I only realised I wasn't when I went to Saint Laurent. After then it was apparent I wanted a bag no needed a bag.
Cue another list. If I was going to get a bag for LFW it had to fit a lot in it. Well . . my life at least. My life being; my camera, my spare lens, my phone, my portable charger and some make up. When I got to Saint Laurent and saw the wall (yes wall) of Sac De Jours I was smitten. Something I'd seen, acknowledged, liked, and put on my wish list, I was very much aware of the Sac De Jour. Aware, but not that bothered. It wasn't competing with the Gucci Dionysus lets just say that.
Anyway, it's funny how love can just hit you out of the blue and this Valentines day I fell for a saint, a Saint Laurent Sac de Jour Micro with caviar leather, a cross body strap and adorned in the most perfect silver studs. The only question I have . . is my handbag too cool for me?
Bicester Village
I was in two minds about this collaboration, obviously as a blogger sharing is my job. But you know there's just some secrets you don't want to share? Not that Bicester Village is a secret by any stretch of the imagination but in my opinion, the less people know about it the better.
I love the fact that it is actually like a little village, if you've never been before it's all beautiful little wooden front, blue stores with lots of greenery and restaurants dotted around. Think the Hamptons. Have a look here to see which designers (and high street stores) you can find in the village.
So I thought seeing as I only went a couple of days ago, I'd do a little round up of some of the goodies I found and didn't purchase to give you a preview of what you can get your hands on if you make the trip! They have so much amazing stock in at the moment as all of the new season stuff has just arrived! You'll have to excuse that all I really looked at was bags so that's all I can fill you in on!
In Gucci you can find the slim GG Logo belt that all of the bloggers have, some larger Marmont bags, the soho shoulder bags and the bamboo handle style bag which I've been told has been discontinued so it could be your last chance to pick this one up! Chloe had Georgias, Fayes and Drews a plenty. There was the most gorgeous mini drew in gold that I had to tear myself away from! They also had the most incredible pair of black pointed ankle boots! As soon as I walked into Givenchy I was blinded to what else was in the store by the selection of Antigonas. A large style in matte black with stud detail and two python beauties in the medium and small sizes. Unfortunately my budget doesn't stretch to python but boy if it did.
In Celine I was awestruck by a blue, white and red canvas medium Cabas Phantom (I died) then again when I saw the selection of Trapeze bags. There were also some amazing styles I've never seen before and I've heard on the grapevine they keep the trios in the back so be sure to ask if there's any in stock if that's what you're after! Dior disappointed me, I had visions of myself walking out with a Diorama probably a bit too much to ask for. As for Loewe, I didn't see anything past the UH – MAZING green patent puzzle bag straight from the catwalk. This time I really did die.
I often overlook Coach as an old lady brand but they've seriously been catching my eye recently with their new collections. They had some super cute bowler bags in bright colours and a few of the uber popular Swagger bags. Much more affordable than some of the other bags I saw! Speaking of affordable, Mulberry again is a brand that surprised me, I spied the Clifton and the Chester both in patent croc which totally made me re consider them as a brand. Saint Laurent was the winner in my eyes with a wall . . yes . . a wall of Sac de Jours, another wall of the Y line bags, mini college chain wallets, universite bags and the classic clutch styles.
The best thing? They do actually carry a few of each style so you can still even pick mine up if you get down there quick! And remember, it's just a 1 hour train direct from Marylebone . . what are you waiting for?