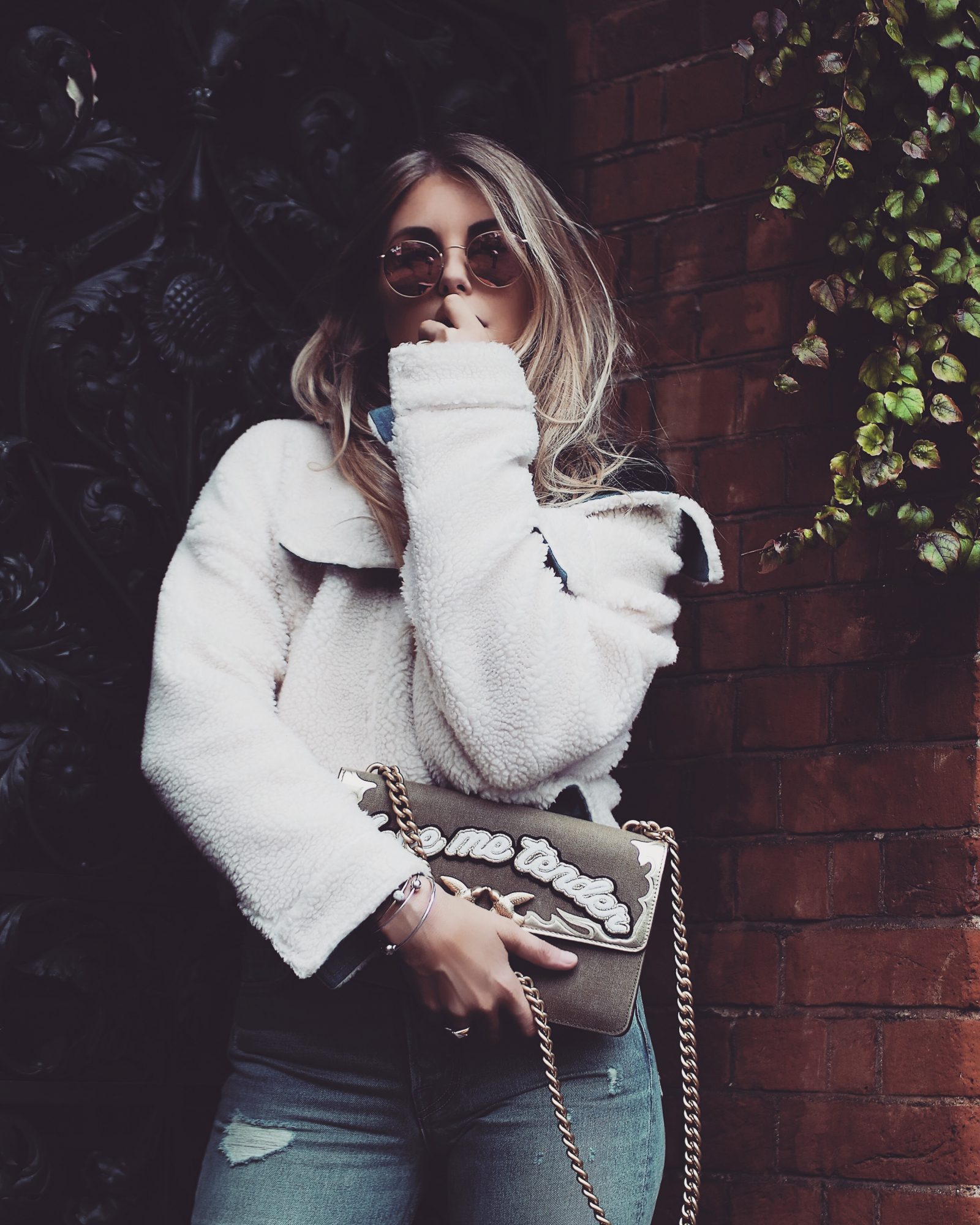 Shearling. Last year it was big. This year it'll be bigger.
Mark my words.
Much like my fashion five and beauty five posts, I've decided to do a monthly trend up date for you guys on something I think is going to be big or already is. This month we're talking shearling.
Shearling.
When I talk about shearling being big I'm not just talking about the classic teddy bear coats. One of which I am stressing the importance of in this post here.
No. Shearling's going to be big everywhere. I'm talking coats, linings, accessories and even in your home. Who doesn't want clothing and homeware that's huggable?
FYI – all of my collages are interactive so if you click on the little plus signs you can be taken directly to the page of the product featured. VERY fancy.
In Clothing . .
I bought this jacket the other day, then I bought it in white, now I want it in pink cord. I need help. Or maybe I just need more shearling?
Jacket : Here, Dress : Here, Shoes : Here
In Accessories . .
These fluffy shoes may be making us all go .. huh? right now, but I can guarantee that by the end of the season we'll all be wearing them.
Jeans : Here, Shoes : Here, Top : Here
In Interiors . .
Shearling cushions are a god send and ever since I spotted this chair in the new in section I've been desperate. It has to be mine.
Throw : Here, Chair : Here, Wall Art : Here, Vase : Here
P.S You Might Also Like These . .
The Fashion Five | Gingham Skirt
Why Now Is The Right Time To Invest In a Teddy Coat
The Perfect LBD Every Instagrammer Owns

OUTFIT DETAILS
Shearling Jacket : OLD Alternative Here
*GRLFRND Denim Ripped Jeans : Here
*Sabo Skirt Cropped Black T Shirt : Here
*Rose Gold Ray Ban Sunglasses : Here
*Pinko Canvas Love Bag : Here
*Pandora Silver Bracelet : Here
*Silver Signet Ring : Here
*All items marked with an asterix were kindly gifted to me
Currently Crushing On . .