Hey guys! I wanted to share some images I shot for a paid campaign on instagram with Matalan about their animal print selection and in particular this animal print top because I have been wearing it SO much and it's only £10 which is an absolute STEAL! You won't believe me when I tell you that this whole outfit apart from the shoes and bag, is from Matalan. It's all about the sizing you get and the way that you style things that can make affordable items look way more high end!
THIS POST CONTAINS PRODUCT THAT I WAS GIFTED AS PART OF A PAID PARTNERSHIP ON INSTAGRAM & AFFILIATE LINKS
Click on the images below to shop the post!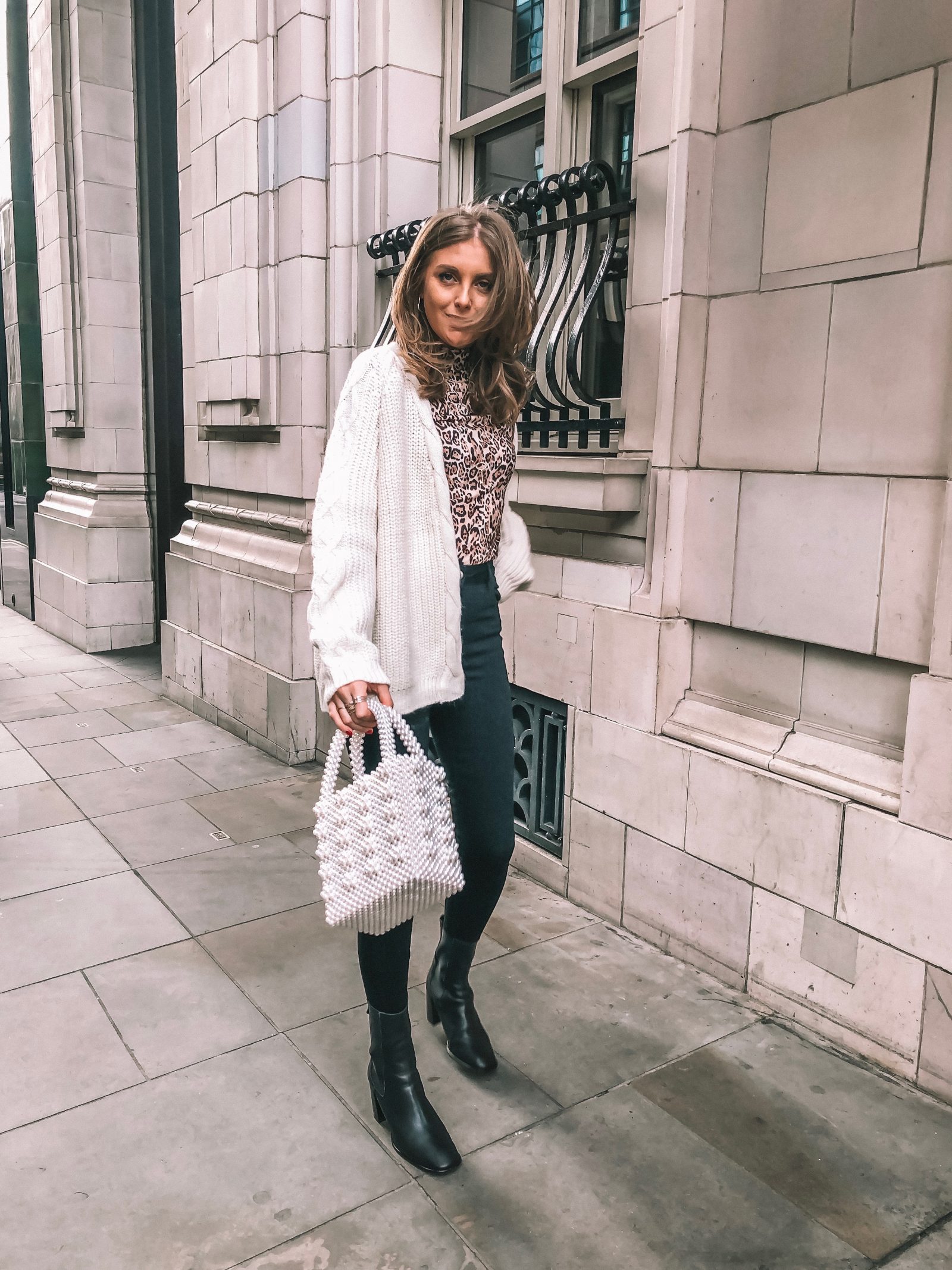 The £10 Matalan Animal Print Top You Need
The proof is 100% in the pudding and that proof from me is that I also got this top in the snake print, you can see it in action here! A printed polo neck has become so valuable to me in my wardrobe and I've realised that even if you can just see a tiny bit of it, it adds a pop of colour or a little bit of interest into an otherwise simple outfit. I've been loving wearing it with this zip cardigan from & other stories, zipped right to the top so you just see a splash of the animal print top that lies beneath!
For this outfit I kept the whole under layer tight and sleek so skinny jeans which are BTW so comfy and really black which is so hard to find. I feel like 99% of black skinny jeans genuinly only stay black for 1 wash and then they've had it! Then I got the cardigan in an XL because I'm all for an oversized cardigan! I think with the big plat and the oversized style it looks way more expensive than it's £20 price tag! I then added some black heeled boots that kept it super simple and elegant and a statement pearl bag. I honestly think this pearl bag just brings any look up a level especially when you're working with neutrals like this! It is a higher price point but you can get a similar version for way cheaper here.
OUTFIT DETAILS
Cardigan – XL (GIFTED) : Here
Top – 8 (GIFTED) : Here
Jeans – 8 (GIFTED) : Here
Boots (BOUGHT WITH VOUCHER) : Here
Bag : Here
Affordable Alternative : Here
Click on the images below to shop the post!




MORE ANIMAL PRINT LOVE
Click on the images below to shop the post!




PS YOU MIGHT LIKE THIS
The Perfect Pair of Topshop Jeans
How To Style The H&M Yellow Flares
Picking My Wedding Stationary
CLICK HERE TO SUBSCRIBE TO MY YOUTUBE CHANNEL