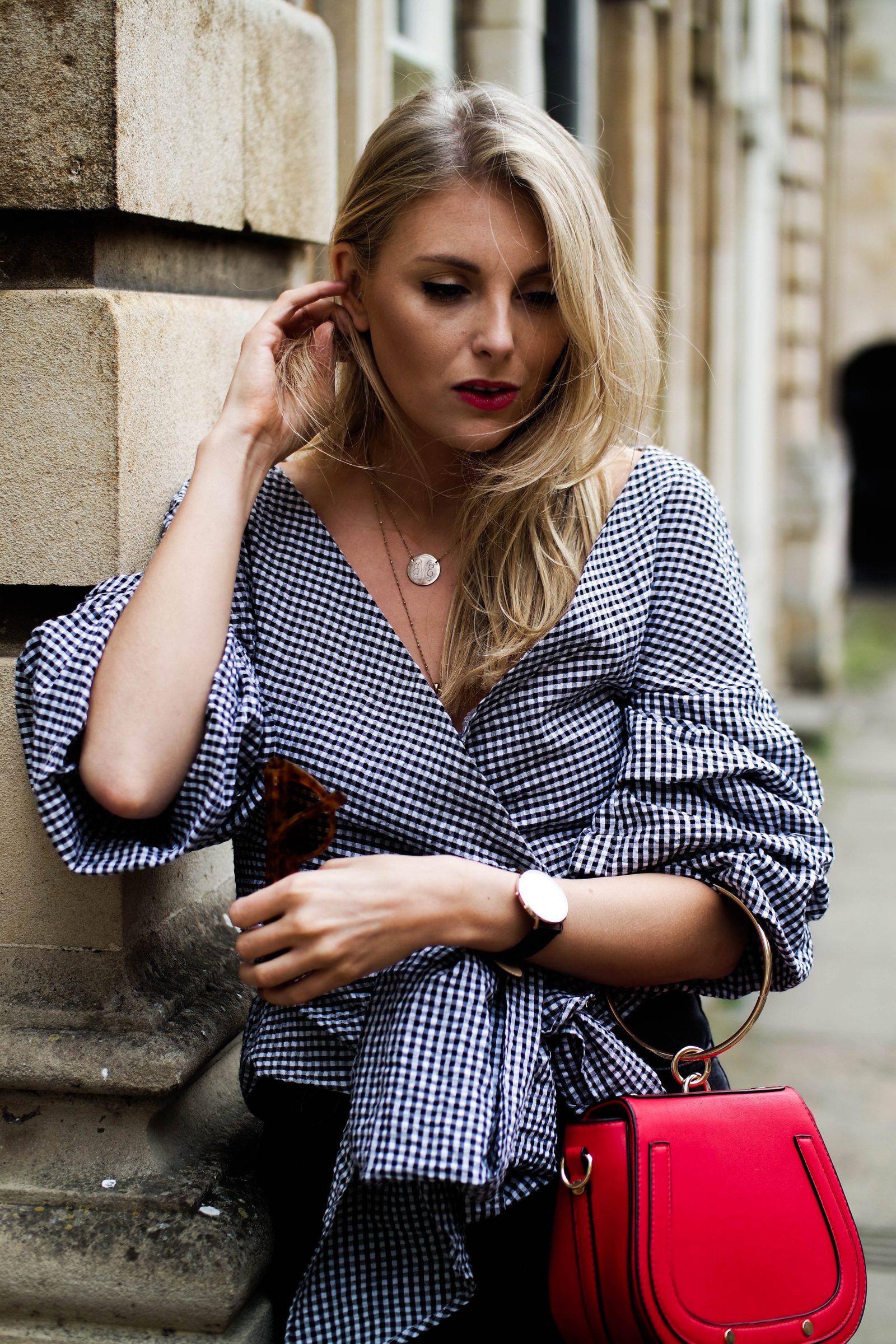 I've had this top for a while now and it was only when I plucked it from my wardrobe to wear the other day that I truly appreciated it's brilliance. You've probably been seeing it here there and everywhere so you certainly won't be needing me to tell you how on trend gingham is right now. As Alex from The Frugality said, for once florals may actually be beaten for the print of the season!
Shop The Post
The £20 Gingham Top
So aside from the fact that it's made up of the print of the season, let's talk about the style. Crossover, tick, fancy sleeves, tick, tie detail, tick, gaping neckline . . oh. Now I don't want to put you off this top but I have to admit that whenever I wear it due to my boob situation, or lack there of, I do have to make a few alterations with some carefully places safety pins . . no big deal right?
Then of course, I need to tell you about the most important part . . It's £20. Thats right, this on trend gingham top is just £20. Don't fancy the gingham but love the style? It also comes in white, baby pink and a blue & White stripe. The white one's under £10!
I was actually planning on doing a knitwear post today but I don't know about you guys but I am sick to the back teeth of knitwear – did you ever think I'd say that?! So that knitwear series may just have to wait. The sun's shown it's beautiful smile and I am in full on spring mode. This beautiful Chloe dupe (have you seen the Chloe Nile? It's identical) came in the post before I went to shoot and I just knew it would make the perfect spring combo with the gingham top. I popped on a rare red lip and I was good to go. I've been loving the new Benefit Lip Duos and this red matches my bag perfectly!
I've been feeling in a bit of a style funk recently so spring seriously cannot come soon enough! I'm definitely going to try and push myself more to try out new things this spring. I'm not talking crazy different, just trying to ditch the denim more often and opt for a skirt! Do you have any spring style resolutions?
The Chloe Nile Dupe
So I had to take a minute to just talk about this dupe. I don't usually like to buy exact dupes but this one is just so reasonably priced and a style that is so statement I don't think I could ever see myself investing in the real deal. So of course I went for it in red (though they do it in grey and black). It is the colour of the season after all! I've left a lil' comparison below so you can see just how amazing and alike the original it is!