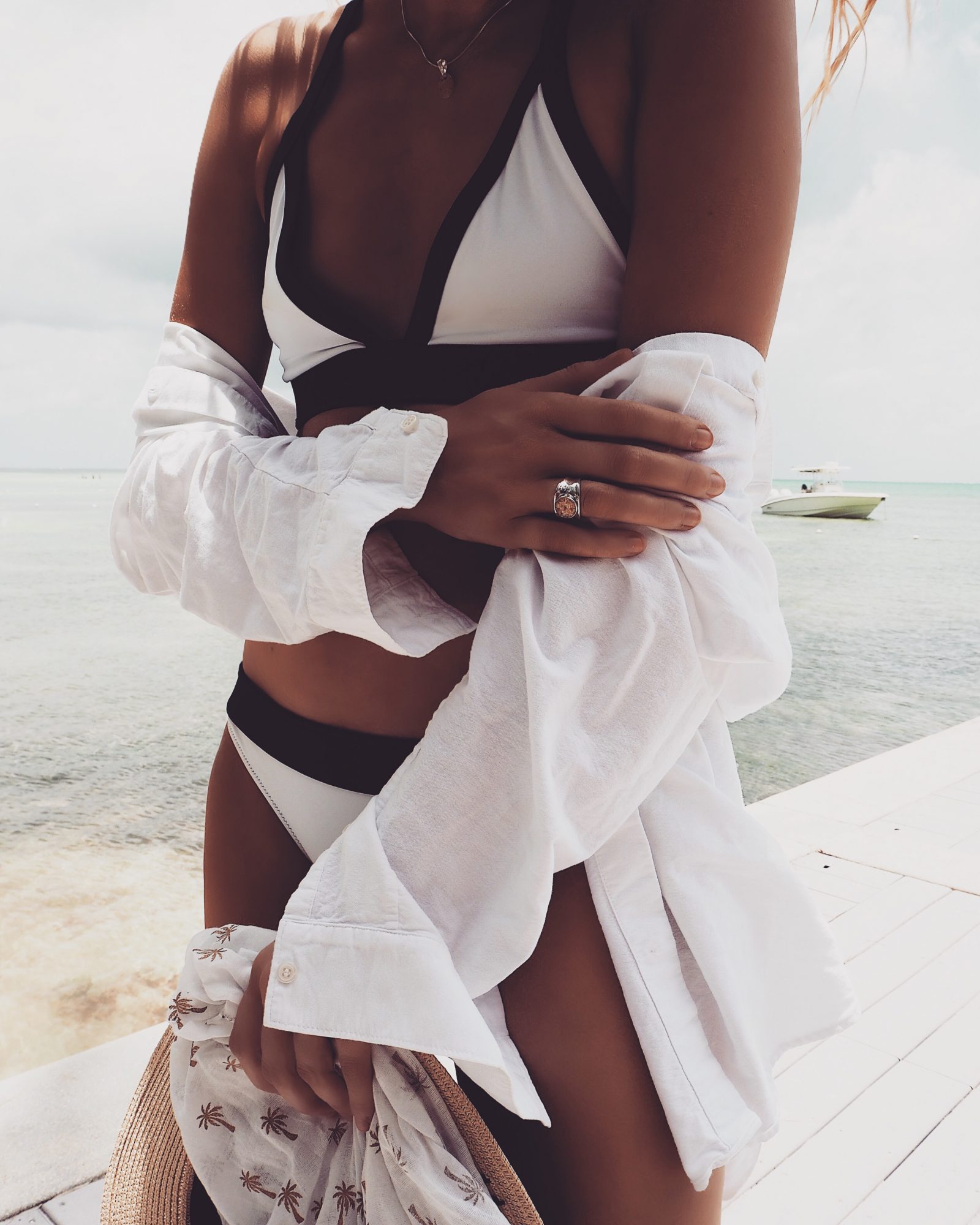 Bikini shopping can seem a lot like jeans shopping sometimes, the cups fit but its too loose, the bum fits but it gapes at the front, the perfect one just doesn't seem to exist right!? Enter Heidi Klein. This bikini is the most perfect, flattering fit. It's simple, it's timeless, it's reversible you need it.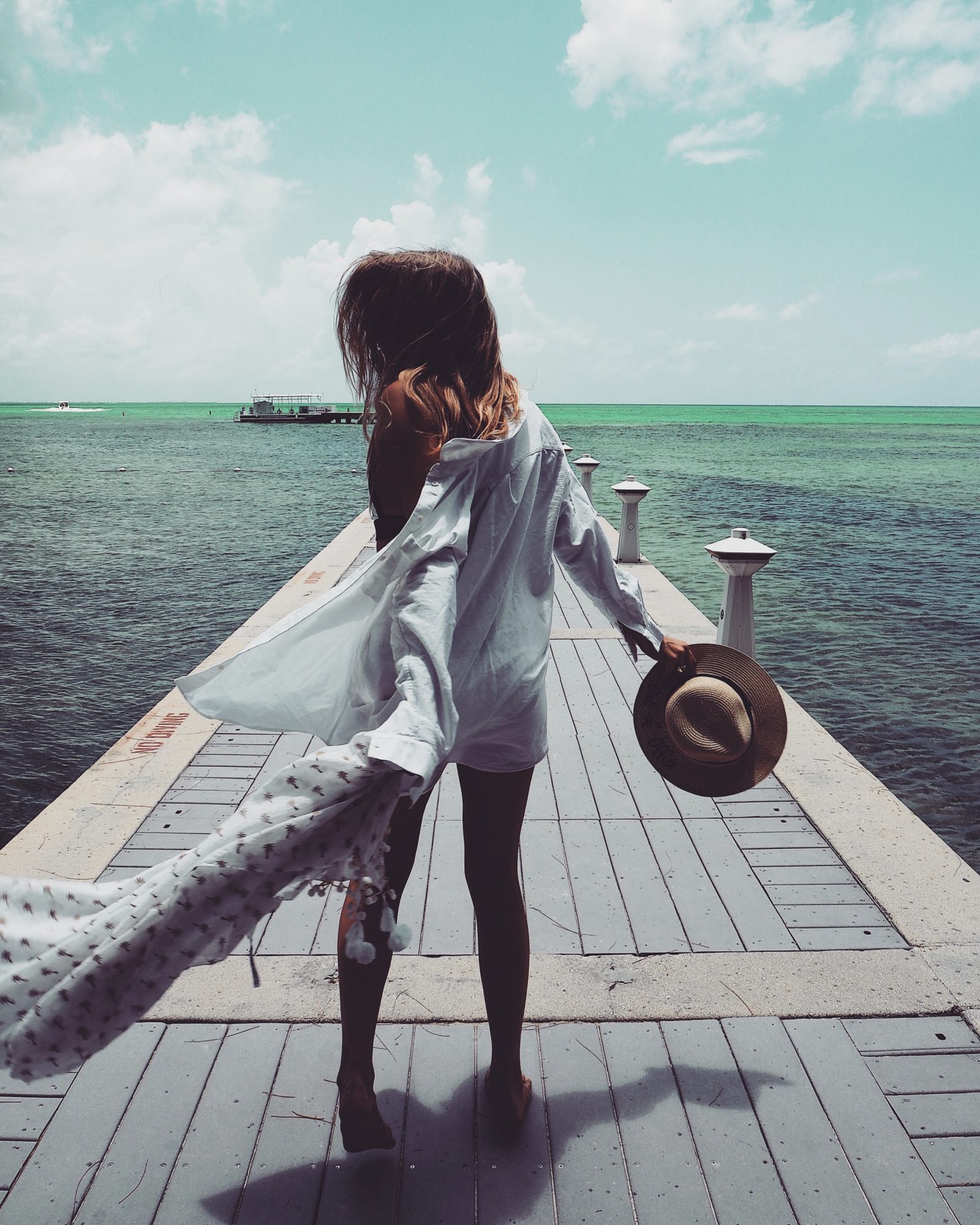 The Heidi Klein Bikini You Need This Summer
I've said it before and I'll say it again, higher priced swimwear really does show a difference. I usually scoff at spending more than £50 on a top so you might be surprised to hear that when it comes to swimwear I have a different opinion, but to me, swimwear is a whole new ball game and Heidi Klein just threw it out the park. You see when you're baring all poolside, you're at your most vulnerable. Self conscious and exposed for the world to see every little lump, bump freckle and mole, you want swimwear thats going to support, enhance and enhance what yo'mama gave you.
As we all know, I'm part of the small boob society, as the boys used to say . . I've seen more bumps on an ironing board and they were right. As I've grown older I've come to acknowledge, accept and most importantly love this fact (read all about it here) so I'm actually pretty happy to go sans padding nowadays, who'd of thought?
For me it's all about my wide shoulders, over one problem and on to the other am I right? You see having a lack of breasts makes my shoulders super prominent so I tend to avoid bandeau styles. This style is so perfect because, forgive me if I'm being too bold here, but this set will suit anyone, in any size. The simple triangle style will never go out of style and if there's a more classic colour combination that navy and white then I bloody well want to see it! Plus, if you do get bored, turn it inside out . . as if it couldn't get any better it's reversible.
Finally I just have one more thing about this Heidi Klein beauty that I want to gush about and thats the security. Obviously a nip slip for me it unlikely even if I was riding the Kamikaze at full speed, but actually as a small breasted lady, you find that when you swim bikinis will fill with water and push down, and you thought small boobs would make me swim faster.
Wearing Your Memories
So beside the Heidi Klein bikini of dreams you'll also notice that I've got some pretty fancy jewels on for the duration of this trip. These beautiful pieces were a gift from Dune Jewellery a unique company on Jewel Street who hand craft sentimental pieces with a difference. Instead of gemstones or diamonds, they add a capsule of sand, clay, earth or any other element from your favourite destination.
For me, I got sand from the Cayman Islands and I am so happy that I can now wear the pieces and keep those memories for the rest of my life. It's a great way of remembering a moment in time and it's a bit different to a photograph that you might look at from time to time. I think it would also make an amazing gift. Imagine you proposed to your girlfriend on a beach then for your wedding gift you got her a necklace with sand from that very beach, or even just as a birthday gift as a memory from a trip of a lifetime!
As I said previously all pieces are hand made in the USA and something that I think you can always tell so much about a brand is that they donate a portion of their proceeds to coastal preservation organisations. You can always tell a brand with heart, it just adds that extra special touch!
You can see the full collection on Jewel Street here and for 10% off the full range and anything from Jewel Street make sure you use my discount code SINEADCROWE10
Outfit Details
*Shirt : Other Stories
*Bikini Top: Heidi Klein
*Bikini Bottoms : Heidi Klein
*Necklace : Dune Jewellery Via Jewel Street
*Ring : Dune Jewellery Via Jewel Street
*Sunglasses : Quay Australia
*Palm Print Sarong : Accessorise
*Personalised Hat : Melon Swimwear
*All items marked with an Asterix were kindly gifted to me
P.S you might like . .
Read about my trip to the Cayman Islands here
See what I packed and how I packed here
Talking about my travel beauty essentials
Cayman Islands Lookbook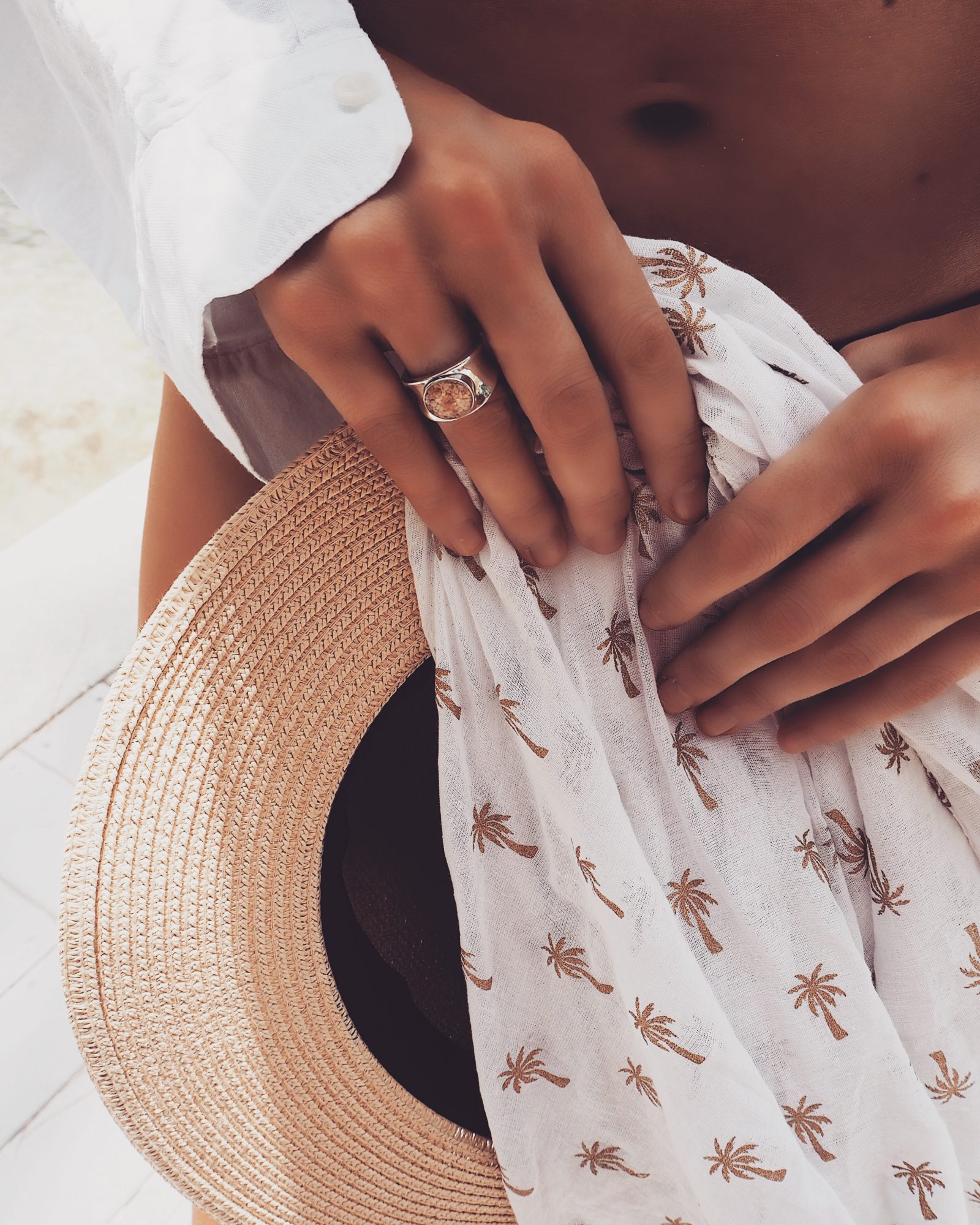 This post is in collaboration with Jewel Street & Dune Jewellery though all thoughts opinions and creative direction are my own