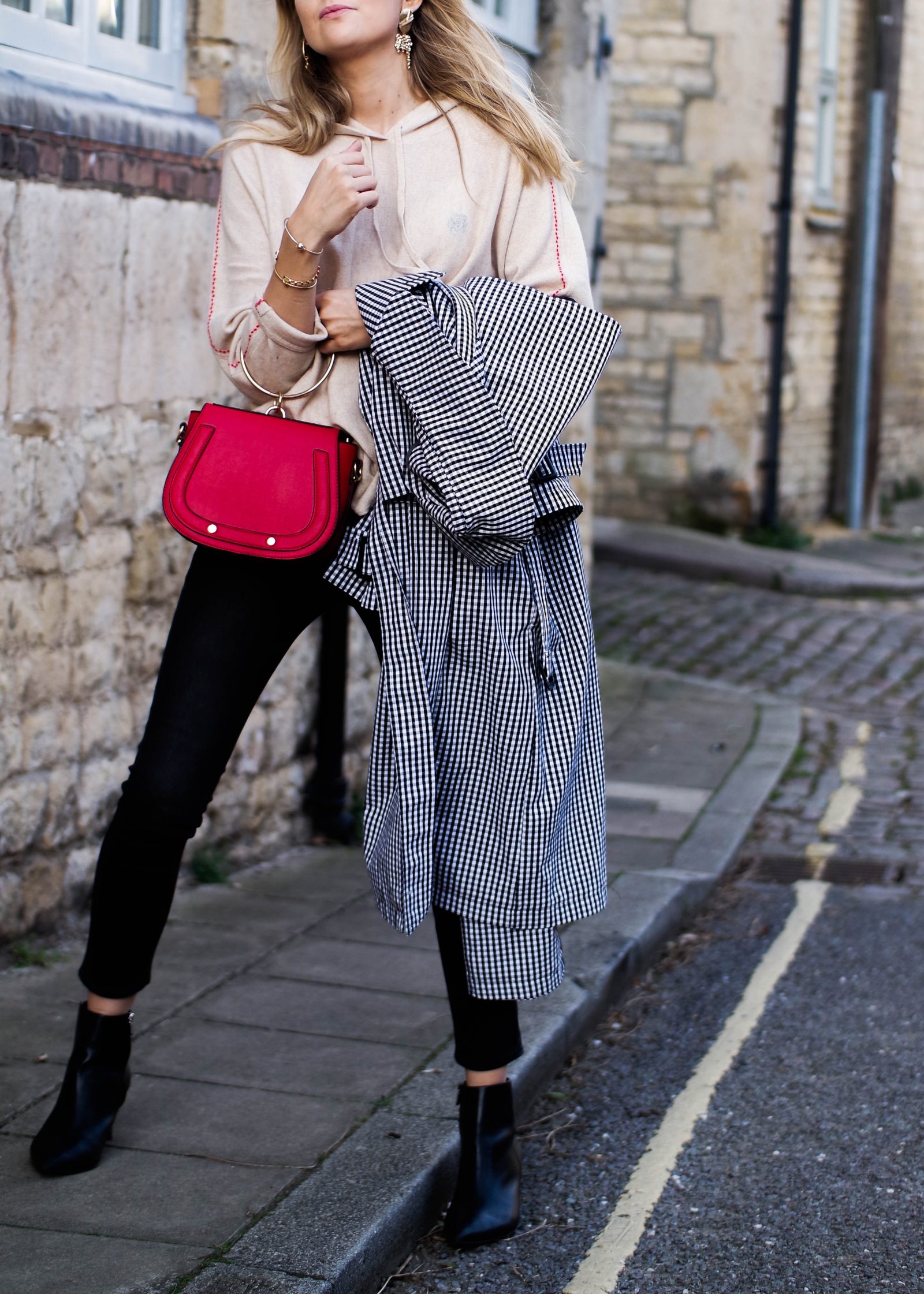 All the cool fashion girls are wearing it. What am I talking about? The Statement bag? The gingham trench? Truth be told I could be talking about any of the both (just call me fashion) but no I'm talking about the hoody. I told you it was a comfy fashion girl look. Yes people, hoodies are in and here's hoping they're sticking around.
Shop The Post
Comfy Fashion Girl Vibes
Now before I start let me just make this clear. I do not condone hoodies with tracksuit bottoms. If you want to be a true fashion girl, you've gotta do it right. The key to rocking this trend is layering. My coat of choice is my new statement gingham coat which adds the perfect chic edge to this laid back look. Add some pointed heels for the streamlined "I'm very busy and important" look and you're good to go. Notice my bag co-ordinates with the stitching in my hoodie . . it's all in the details people.
I've definitely dressed this comfy fashion look up with my accessories as I'm not necessarily one to wear statement earrings on the daily but I'm seriously loving this laid back luxe vibe. What's more this particular hoodie is cashmere making it 10x more cosy than any other hoodie and just slightly more luxe, less street. Hoodlums don't wear cashmere right?
More About The Hoody
I said last week I was investing in my wardrobe more so naturally more cashmere was bound to happen. I was actually gifted this amazing 100% cashmere hoody by the lovely ladies at Love, peace and then happiness. I mean the name alone sounds like my blog so to say the collaboration was only natural is a given!
I chose this piece, again, because it's timeless. Yes hoodies may be having a "fashion moment" right now but even if I may not want to wear this exact look in 6 months time (I'm hoping if I do it will be with a skirt), I'll be styling it differently and wearing it purely because it's such a classic piece.
Love peace and then happiness promise "luxury like no other" with fabrics gathered from incredible sources, each piece is carefully created with the end user in mind. Each piece has embroidery inspired by the companies korean heritage and you may have noticed the red stitching on the sleeve of my piece which represents the map of you and the possibilities that lie ahead. Isn't that just amazing?
Outfit Details
*Coat : Next
*Hoodie : Love, Peace & Then Happiness (USE CODE SINEAD25 for 25% off SITEWIDE)
*Jeans : Hush
*Bag : Shein
*Boots : &OtherStories
Earrings : Mango