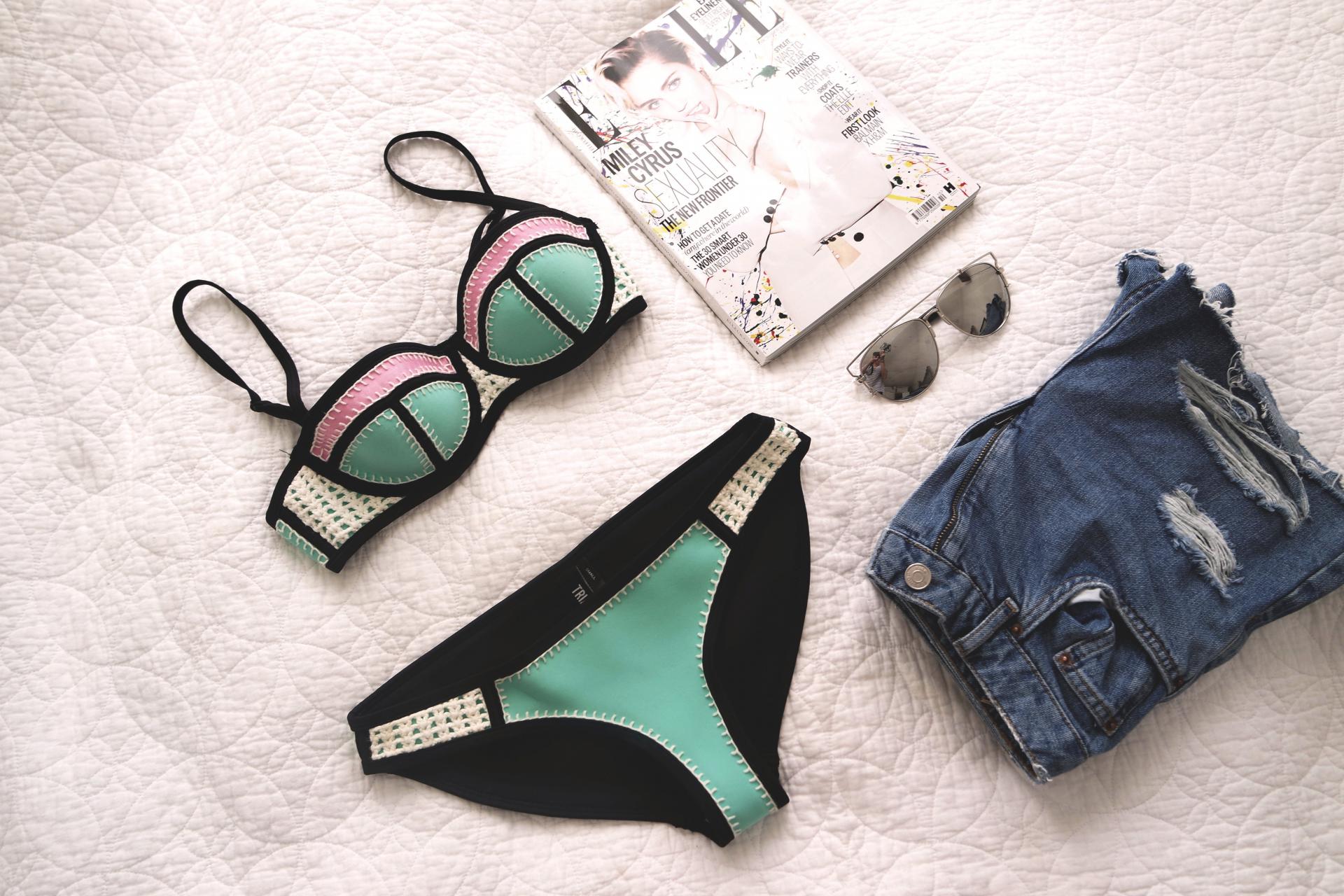 I've been meaning to do this post since I came back from holiday but somehow I've only just got round to it, pretty helpful to get a bikini review at the end of September hey?! Well, to be fair a Triangl bikini is definitely an investment and those lucky few who are jetting off to warmer climates for some winter sun can take this advice on board!
I know there's a lot of umming and arring when buying a bikini that exceeds £20 (well there is for me anyway!) so I thought it I'd do a little Triangl bikini review! Firstly, I'm lucky enough to own two of these beauties, the Farrah in Wild Thing which is a triangle shaped bikini with crochet detailing, and the Brigitte in in the summertime, which is a bralet style also with crochet detailing.
Fit
I found the fit really good, the material is neoprene which unless you've been living under a hole and have never heard of Triangl before I'm pretty sure you'll be aware of! This means that your bottoms don't fall down when you get out of the pool and there's no gaping, usually when I swim in a bikini the water goes in and my top goes down. I found it really comfortable to wear and because of the nature of the fabric it's a good snug fit. It's worth mentioning that the straps are adjustable as well which helps to get a good fit.
Sizing
I guess the first thing to mention is that I am lucky if I fill a 34A cup on a good day, I have zero boobs. If you're blessed by the god of tits you may not find this post helpful! I'm generally an 8/10 depending on where I shop and how I want it to fit, of course with a bikini, I want a tight fit!
The sizing is XXS – XL, I'm not sure what they all stand for but I know XS is 32A and S is 34B so I guess the rest goes up/ down in a similar way. They also have S+ and S++ for those of you who are a smaller size but have bigger boobs which I think's quite good. To be honest I was told that there was an online chat service for sizing and I didn't even hesitate before using it! The girls at Triangl are honestly so lovely and helpful, I just gave them my bra size and they told me which would be best. I had the issue that I'm a 34A so I either compromised in the cup or the waist, because I got the Farrah first I went for the S, with it being a triangle style I thought it wouldn't matter if the cup was a little big. It fitted so well, there was definitely room for me to go smaller but I wanted to be on the safe side.
The next time I was a bit more adventurous, don't get me wrong I love the Farrah but I chose it because of my boobs, or lack of. I wasn't sure how the bra style would fit and no body wants an empty cup. I asked the online chat service about this and they said it would be fine so, erring on the edge of caution I went for the XS (32A) size and it fits perfectly, if anything it was a bit tight on the cup making me look like I had bigger boobs (if that's possible) which is always a good thing in my book! So I would definitely say both styles are suitable for a small cup size.
Style
I love both styles, I couldn't really choose a favourite because they're both so different. The Brigitte has more of the 'wow' factor, I definitely found this better for sunbathing because you can tuck the straps in so it's strapless and it's good for wearing under things if your going out for the day and fancy a dip! The Farrah is more comfortable because it doesn't have the under wiring and isn't as structured.
Quality
I know there's a lot of fakes of the bra style Triangl bikinis out there and in all fairness I haven't actually tried one to comment. I would however say that you can definitely see the quality in these. They're lined in black neoprene and have the most beautiful stitching detail to coordinate with the crochet. You can see the attention to detail and as someone who usually get's my bikinis from H&M or Topshop I can 100% see the difference. Usually I'm lucky if a bikini lasts all summer but these ones will be with me a while I can tell!
Wear 'n' Tear
I didn't wear these in the pool for the first few days but after I'd been in once all preciousness disappeared. I wore the Farrah in the sea and both went in the pool multiple times. I'm not great on bikini care but I rinsed them after each wear which is what I do for all of my bikinis. I also wore them around under my clothes, because of the material the bottom area can get a bit warm if your walking around in denim shorts (not my best moment). I think it's because of the thick neoprene and the close fit. Anyway, at the end of the holiday when I got home I hand washed each bikini and I can't really see any signs of wear. The crochet has gone a more creamy colour than bright white but honestly, I wouldn't have expected something like that to stay perfect so I'm happy with it. You can't really tell from far away because it's next to the bright colours it still looks white!
Overall I would definitely say they're worth the price tag! I'm now a reformed bikini wearer, I'd definitely rather have a few nice ones that 10 kinda nice ones from Topshop!
Click on the images below to be taken directly to the product pages!