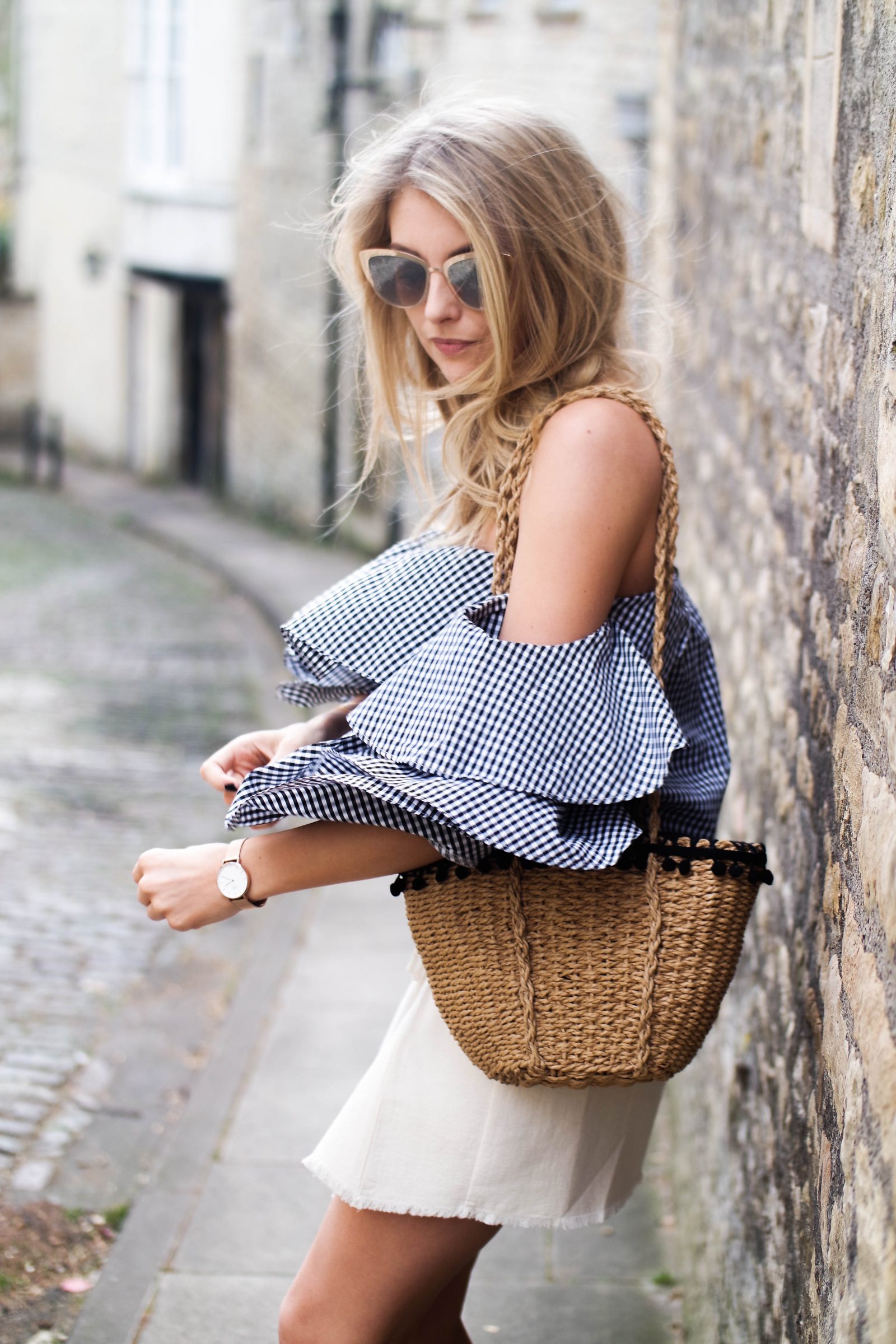 The humble basket bag. Commonly associated with beach and holiday attire is this Spring, breaking boundaries. After seeing it on one too many of my favourite bloggers (Audrey from Frassy has a serious basket bag addiction) I was convinced that I too needed a basket bag. I can only hope that in writing this post, I'll have the same effect on you. Then let us not forget the key thing about most of the basket bag population, they're cheap. Mine was a meer £19.99 which can only mean one thing; the start of a beautiful basket bag collection.
Shop The Post
Why You Need A Basket Bag
Before I start listing the reasons why you need a basket bag, lets just appreciate how effortlessly this humble bag has crossed from beach to city. The colour is neutral, it literally goes with any outfit. Even the smaller bags, like mine, are absolutely tardis'. I'm talking Mary Poppins style magical, these bags fit everything you could possibly want and more.
Are you sick of this top yet? No? Well you might be once I've finished posting about it on instagram and seen another outfit post I have planned for next week with it in. I just can't take it off OK!? I think I'm in love with . . gingham. And does my new basket bag not look insane next to the top? Dream combo or what? And £40 for the both of them . . no brainer. So much of a no brainer that I have to admit to wearing the white version of this top as I write this, yes I went and got another one.
I am loving the neutral tone this bag brings to the look and also, check out my new skirt from the committed range at Mango. The stuff in that range is amazing! It's slightly higher priced but just look at this dress!!! ANDDD it's all ethically sourced . . hence the name committed. So worth spending the extra pennies right?? whatever you tell yourself to get to sleep at night . .
More Basket Bags I'm Eying Up . .
Outfit Details
*Sunglasses : Quay Australia
*Top : Miss Pap (Also just got the white version, I'm obsessed)
Skirt : Mango
Bag : ZARA
Shoes : OLD Alternative Here
*Watch : Daniel Wellington (Use code SINEADCROWE for 15% discount and free worldwide delivery)
Necklace : ZARA