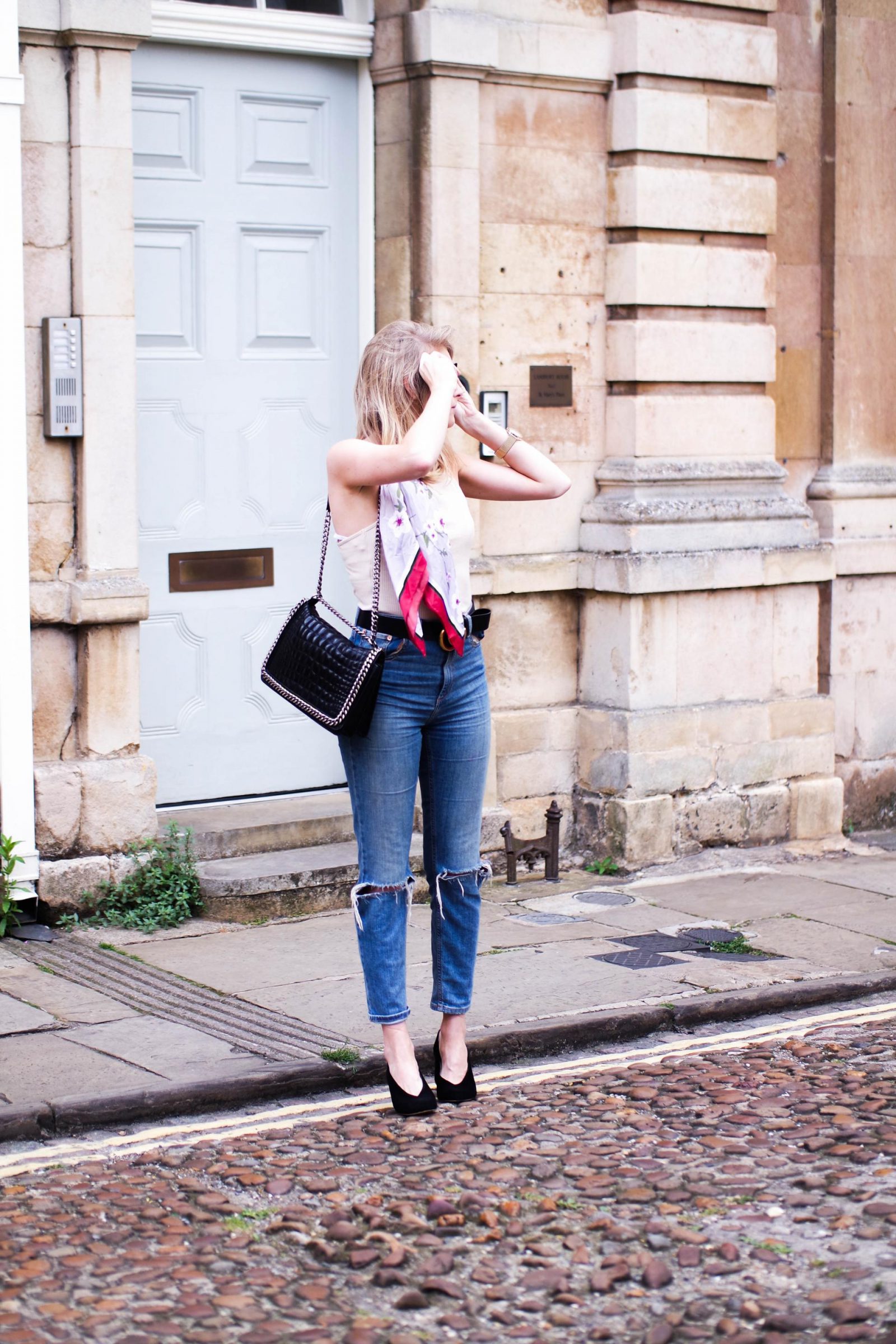 Shop The Post
I noticed that I got such a good response from my previous styling post 3 new ways to wear your shirt dress so I decided to do another one! This time with something I recently bought but have been trying to decide how to wear. So I figured maybe, just maybe, you guys might be struggling too!
I do love doing these posts so I am thinking of doing more, let me know if there's something in particular you need help styling with!
Ways to style the bandana scarf #1 : On Your Clothes
The first way I've styled the humble bandana scarf is just by looping it round the strap of my top. At first I thought it looked a bit weird but I actually love it! I'm not usually one to wear a simple vest top so it just adds something to it and finishes the look off. It also kind of covers the stomach area so you don't feel as on show in a tight top.
Soz about the bra strap, this is what happens when you shoot with your boyfriend, they just don't pick up on things like this!!
I pulled my Gucci belt back out for this look and I actually bought this vest as a basic for travelling but LOVE it with jeans. Which by the way I am totally surprised by! I'm usually one to shy away from tight clothing and go for more floaty pieces so this was a real shocker but I'll totes be wearing it again!
OUTFIT DETAILS:
Top : HERE
Scarf : HERE
Belt : HERE
Jeans : HERE
*Heels : HERE
Bag : HERE
*Watch : HERE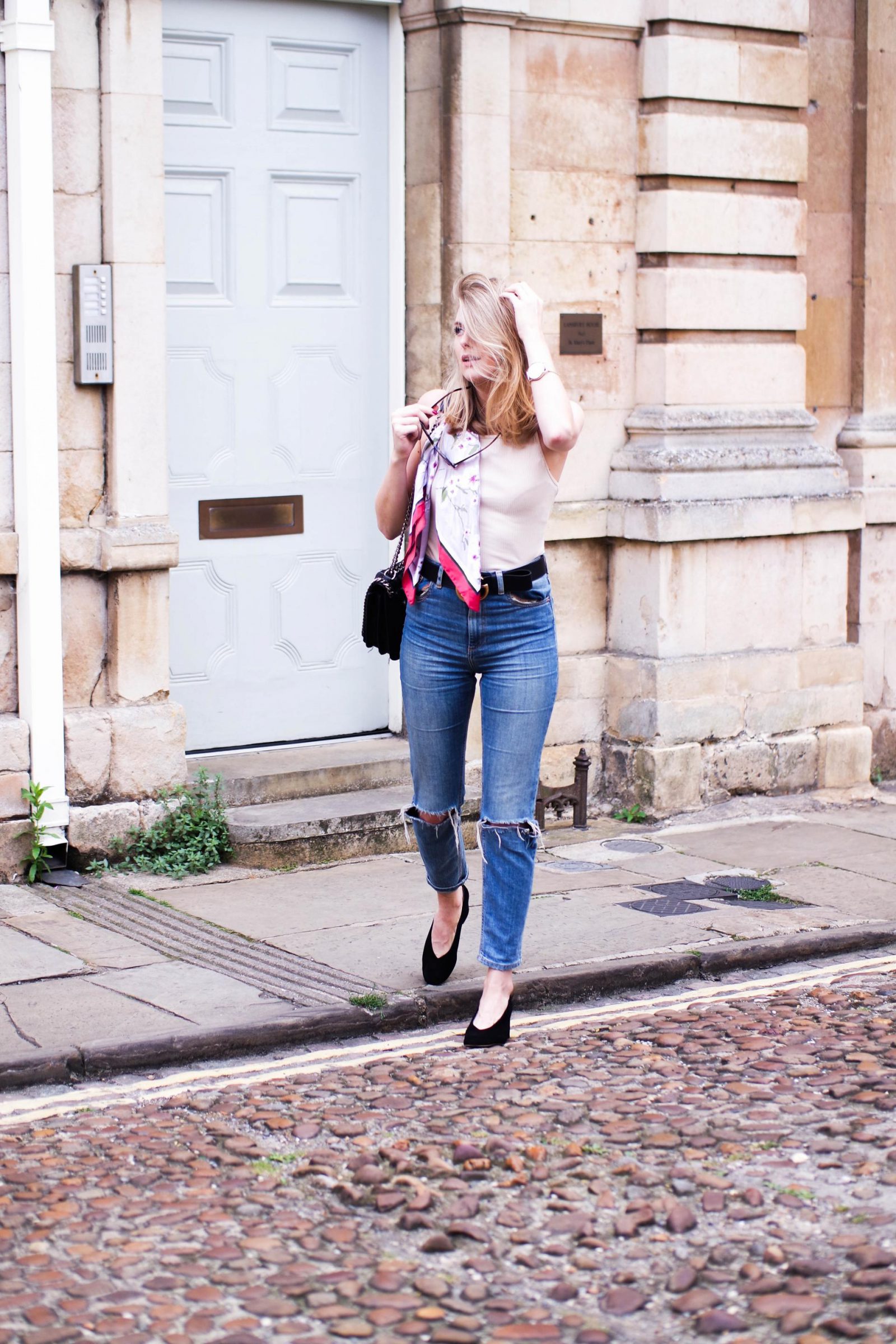 Ways to style the bandana scarf #2 : In Your Hair
Is there anything more cute and girly than a ribbon in your hair? I went for the half up do (are you shocked to see me with my hair up?!) as I think my hairs too short to do the ponytail! But I love when people plait it into their hair or use it to tie like Lorna does here, so so pretty and elegant!
I'll always love this dress, I think that a shirt dress is the epitomy of effortless style, though I ironed this right before I went out! This is just from sitting in the car! What a nightmare!
OUTFIT DETAILS:
Scarf : HERE
Dress :HERE
*Heels : HERE
*Watch : HERE
Sunglasses: HERE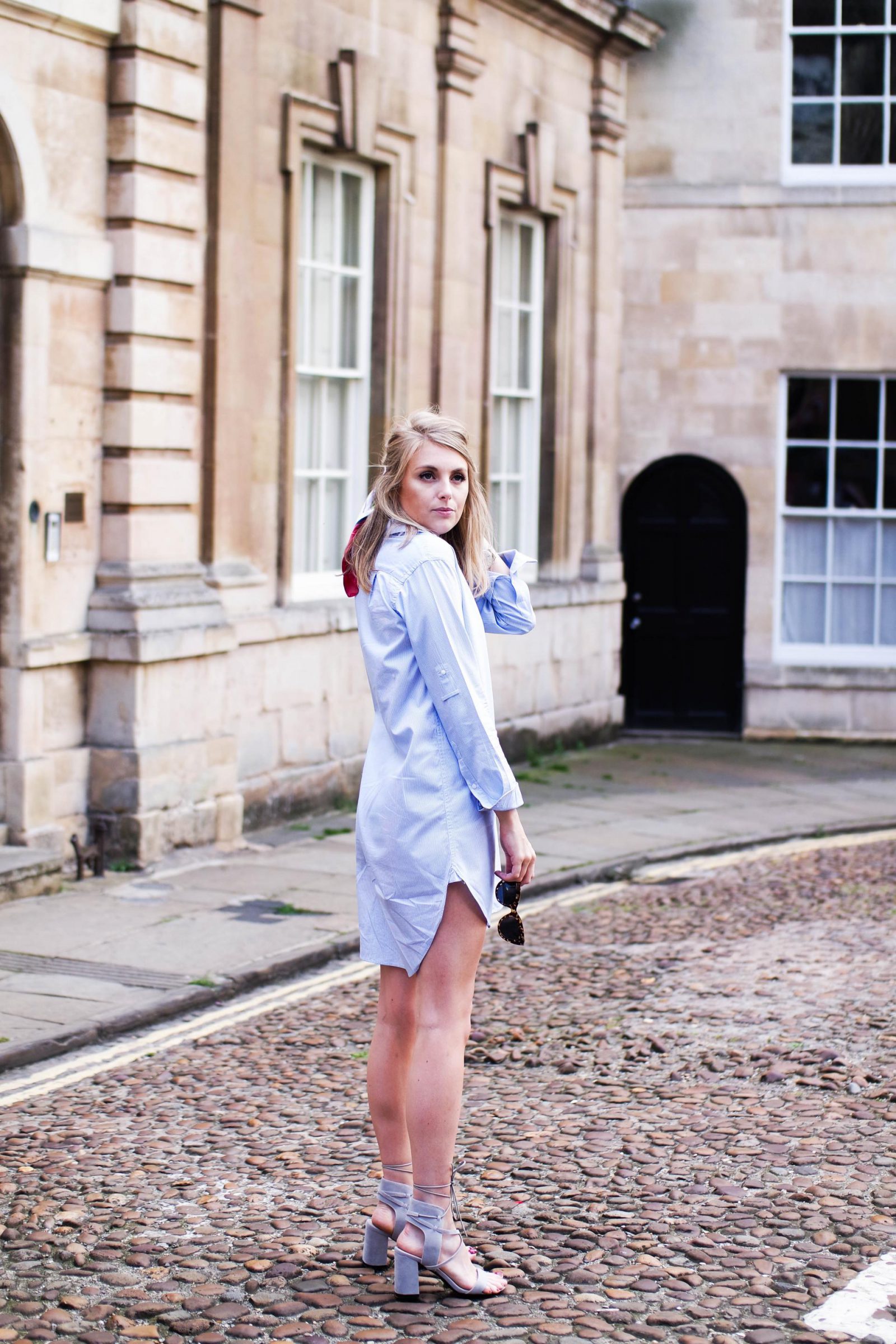 Ways to style the bandana scarf #3 : On Your Bag
This one's been done time and time again, but do you know why? Because it works and it looks good! What these scarves are great for is adding a pop of colour to your outfit, and when you can't find anywhere to tie it, tie it on your bag!
I'm so glad I finally managed to get this shirt in a post. I love it so much it's the most easy to wear top and super similar to my Mango one. It's much more modest though and in the classic pyjama shirt style. Do you know why? Because it is pyjamas! Yes! And they do them in black too! If that's not multifunctional I don't know what is!
OUTFIT DETAILS:
*Top : HERE
Skirt : HERE
Bag : old- Similar HERE
Scarf : HERE
*Heels : HERE
Sunglasses : HERE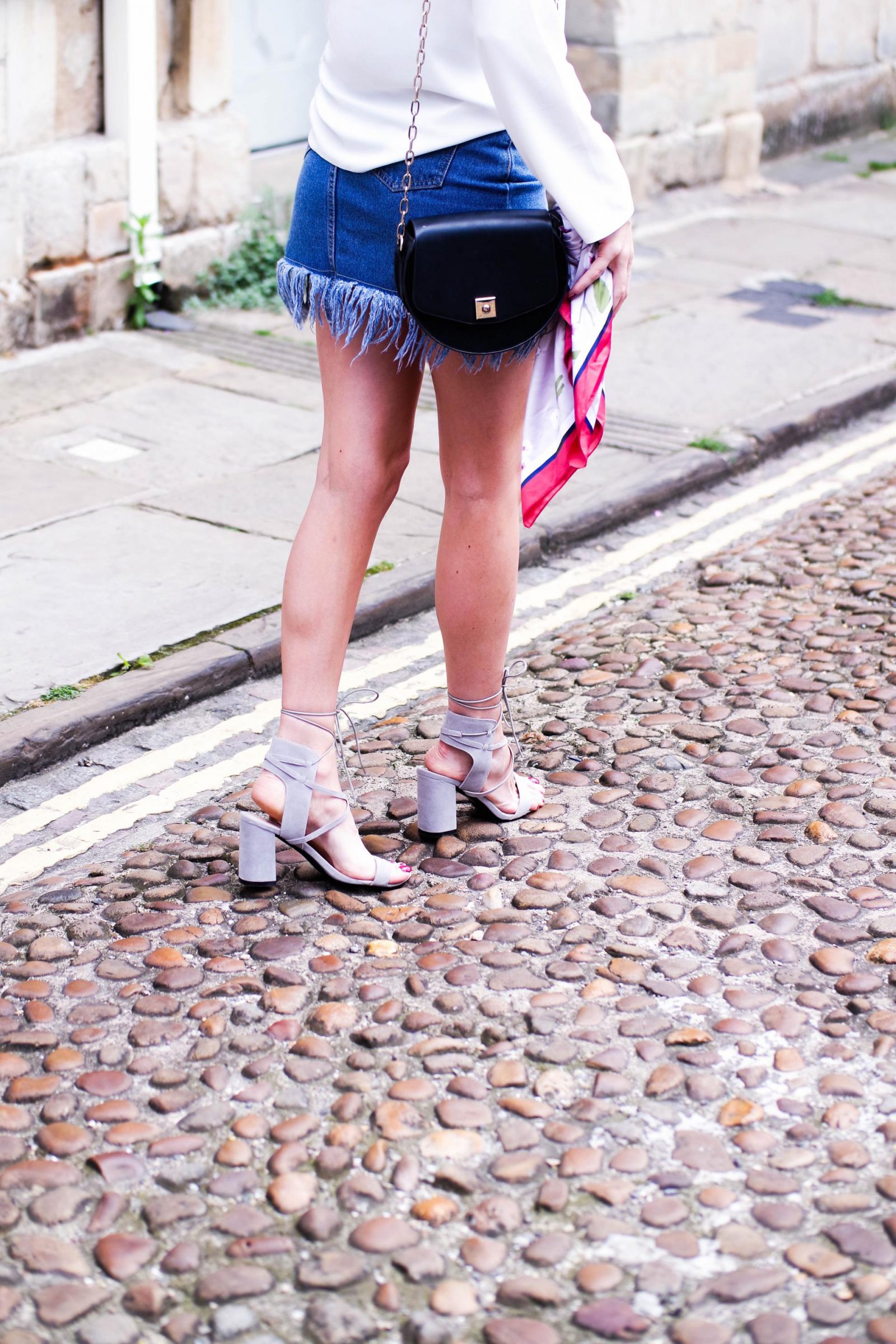 Ways to style the bandana scarf #4 : As Jewellery
The last way is to wear it as a piece of jewellery, either round your neck or on your wrist, it makes the perfect accessory.
I'm not a fan of the air hostess look, so I tied mine then twisted it round to give the effect of a chocker. I can imagine this would look really good with a gold necklace layering it up, actually I might try that for myself!
This is possibly one of my favourite looks for everyday wear when I want to be comfy and look relatively OK if I have meetings or anything! Those loafers again! I know but honestly they are so comfy and the best dupe for the Gucci loafers! This top is also a favourite of mine!
OUTFIT DETAILS:
Scarf : HERE
Top : HERE
Jeans : HERE
*Watch : HERE
Shoes : HERE
Sunglasses : HERE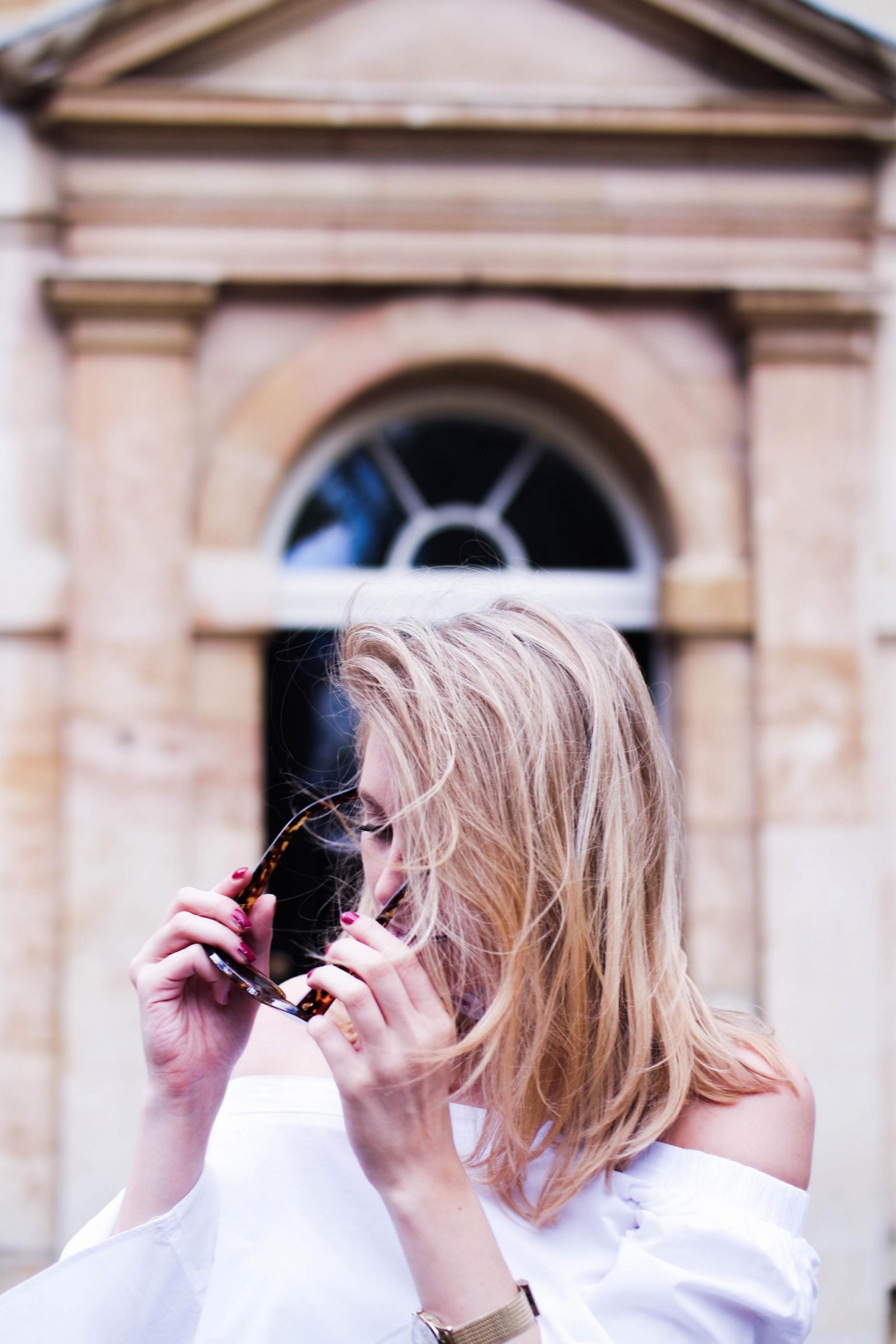 All photography by Jack Earl
Make sure you follow me on Bloglovin' to stay up to date with all of the latest on the blog! If you don't already then make sure you head over to my twitter and hit follow as I will be hosting a beauty giveaway super super soon to celebrate hitting 2,500 followers!
FOLLOW ME – INSTAGRAM – TWITTER – PINTEREST
Make sure you let me know which of the 4 ways to style the bandana scarf is your favourite! I can't decide between 1 and 4!!
Shop My Pick of The Bandana Scarves