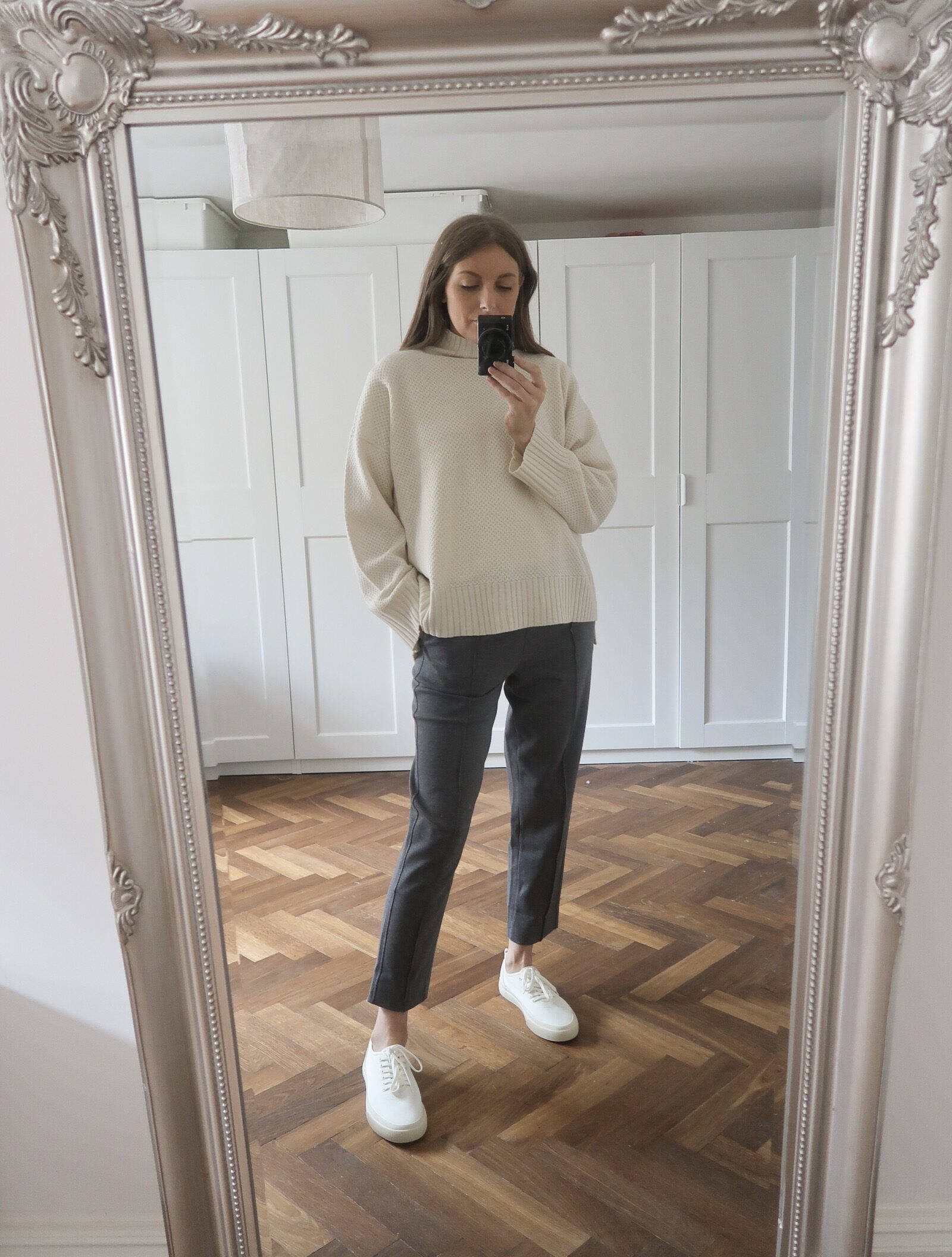 Hey guys!
I thought it would be fun to do another styling video this week as I know you guys enjoy them! This week I worked with Everlane to create 7 outfits – 1 for every day of the week – with a limited number of items including their new dream coat and dream trousers. I chose the grey trousers and coat because I felt that they were the most practical for my wardrobe and the light neutral tones that I wear. They also come in a camel colour and in black if you were after another colour!
THIS POST CONTAINS AFFILIATE LINKS & GIFTED ITEMS
Click on the images below to shop the look!




7 Autumn Outfit Ideas with Everlane
I know we've now gone into a second lockdown, this was actually filmed before I knew this was happening however I feel that all of the items are super classic and timeless like, a cream cashmere jumper, when will I ever not want to wear that!? And also because of how . . . well dreamy the dream trousers are, they are the perfect work from home trouser. They're super soft with lots of stretch in the fabric whilst still being tailored and looking smart PLUS they have a stretch waistband which as a pregnant woman I am very much enjoying right now!
Before I get into the video I just wanted to tell you a bit about Everlane incase you've not heard of them before as they are an American based brand. They do wardrobe staples in lots of different colours and everything is made in a sustainable way. For example that cashmere jumper I was talking about, it's recycled cashmere. And all of the packaging, including the little plastic bags the items are individually wrapped in, is recyclable. It's just all round a really great brand so I am super proud to be working with them. Just to clarify that this blog post is not a sponsored post, the youtube video is sponsored 🙂
I hope you guys enjoy the video and get some Inspo for your new work from home outfits and maybe try something new from Everlane!
SHOP THE VIDEO
Click on the images below to shop the look!




CHECK OUT MY DAILY OUTFITS HERE
DID YOU KNOW I'M ALSO ON PINTEREST?!
PS YOU MIGHT ALSO LIKE 3 Loungewear Sets For Winter OR 5 Winter Coat Favourites