Leopard print's a tricky one. On the one hand it's a solid neutral, possibly the most neutral of all prints (except breton stripes of course) and yet often looked at (by myself included) as one of the hardest to style.
Let's face it, it's a fine leopard printed line between Kate Moss and Kat from Eastenders. No one wants to be the latter.
Click on the images below to be taken directly to the product pages!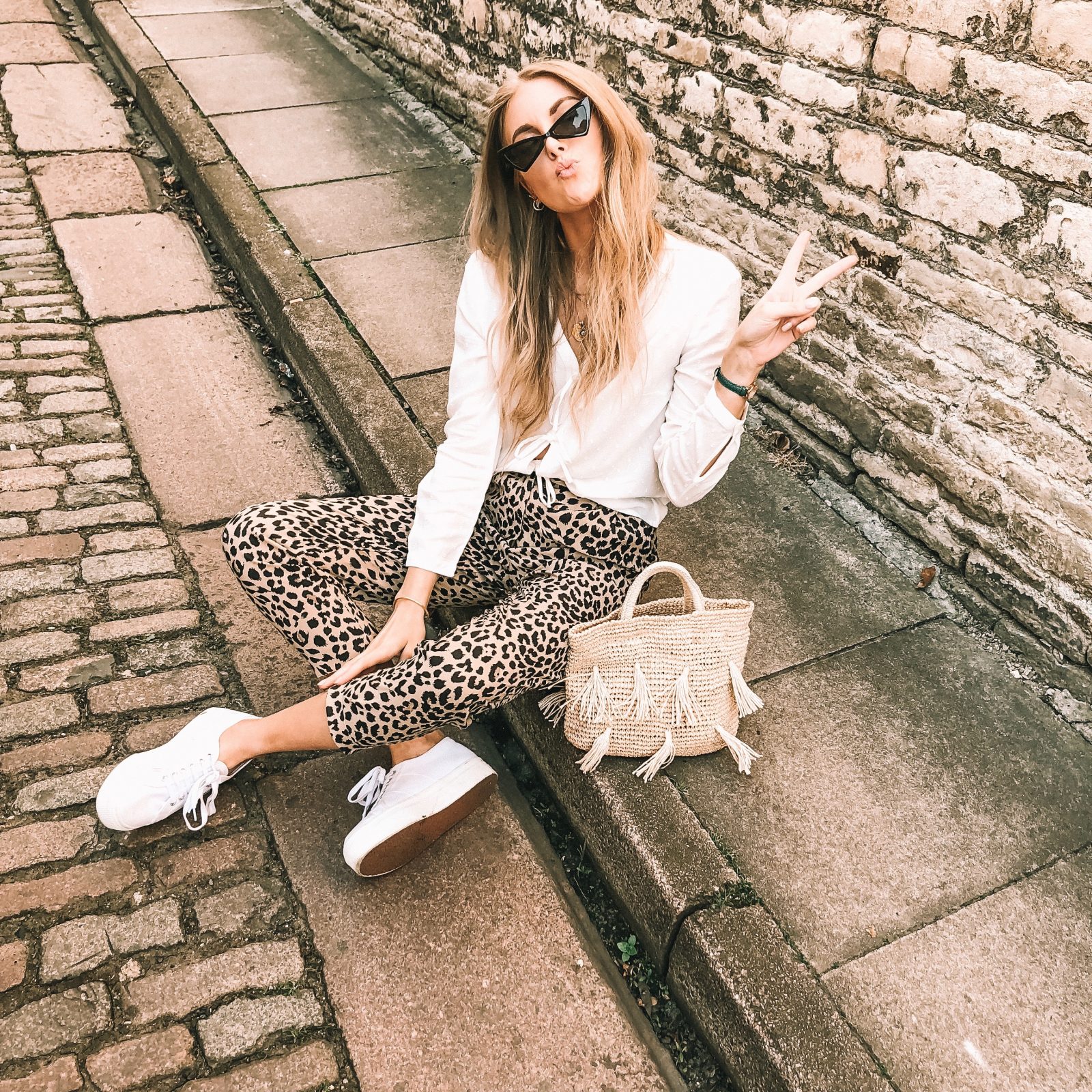 Leopard Print
So this brings me to the print that can age you in a second and take you from spring chicken to mutton dressed as lamb – as a newly 28 year old this is the phrase I now fear most. The first leopard print piece I added to my wardrobe was actually ironically the most expensive, but also the most subtle. I purchased this pair of Golden Goose trainers, my second pair because they're so damn comfy, with pony skin leopard print down each side. It took me around 3 months to finally make the purchase after opening the tab on the daily and honestly I regret not buying them soooner. They're so subtle and make any outfit look instantly cooler. Plus they go with pretty much anything.
My next leopard print piece was actually a gift from the brand Revolve in the form of a fur coat, in my humble opinion a leopard print coat is pretty much a wardrobe staple a la Kate Moss. I didn't add it to the video because we're pushing summer here in the UK but it's 100% a piece I'd say go for if you're considering it. I did a blog post way back in winter on how to style it without looking like Kat from Eastenders and why it's a winter staple.
Then more recently, my third key leopard print item which coincidently was also a generous gift from the brand &Other Stories were these leopard print trousers. I adore them. They're super comfy, they go with so many more things than I ever thought that they're already becoming a wardrobe staple for me!
I've added two more pieces to the mix for the video below so make sure you click through to see what they are and how I chose to style everything! And let me know what your favourite look is and if you have any leopard print pieces you think I'd love!
3 Ways To Wear Leopard Print
SHOP THE VIDEO
Click on the images below to be taken directly to the product pages!




TOP HIGH STREET PICKS
Topshop are doing some really amazing leopard print denim pieces right now that I am living for! The denim leopard print skirt is super cute and I am just praying they bring out a matching denim jacket because can we just take a moment for how cute it would be as a co ord?!
Click on the images below to be taken directly to the product pages!




TOP HIGH END PICKS
When it comes to designer there are so many amazing pieces. I love the Gucci loafers, I spotted these on Josie from Fashion Mumblr last spring and they're still around which says to me they're an absolute wardrobe staple. I also know I'd get so much wear out of them because I wear my leopard print trainers so much!
Click on the images below to be taken directly to the product pages!




PS YOU MIGHT LIKE THIS
3 Ways To Wear Camis
3 Ways To Wear Track Pants
Stealing Meghan Markle's Style
CLICK HERE TO SUBSCRIBE TO MY CHANNEL