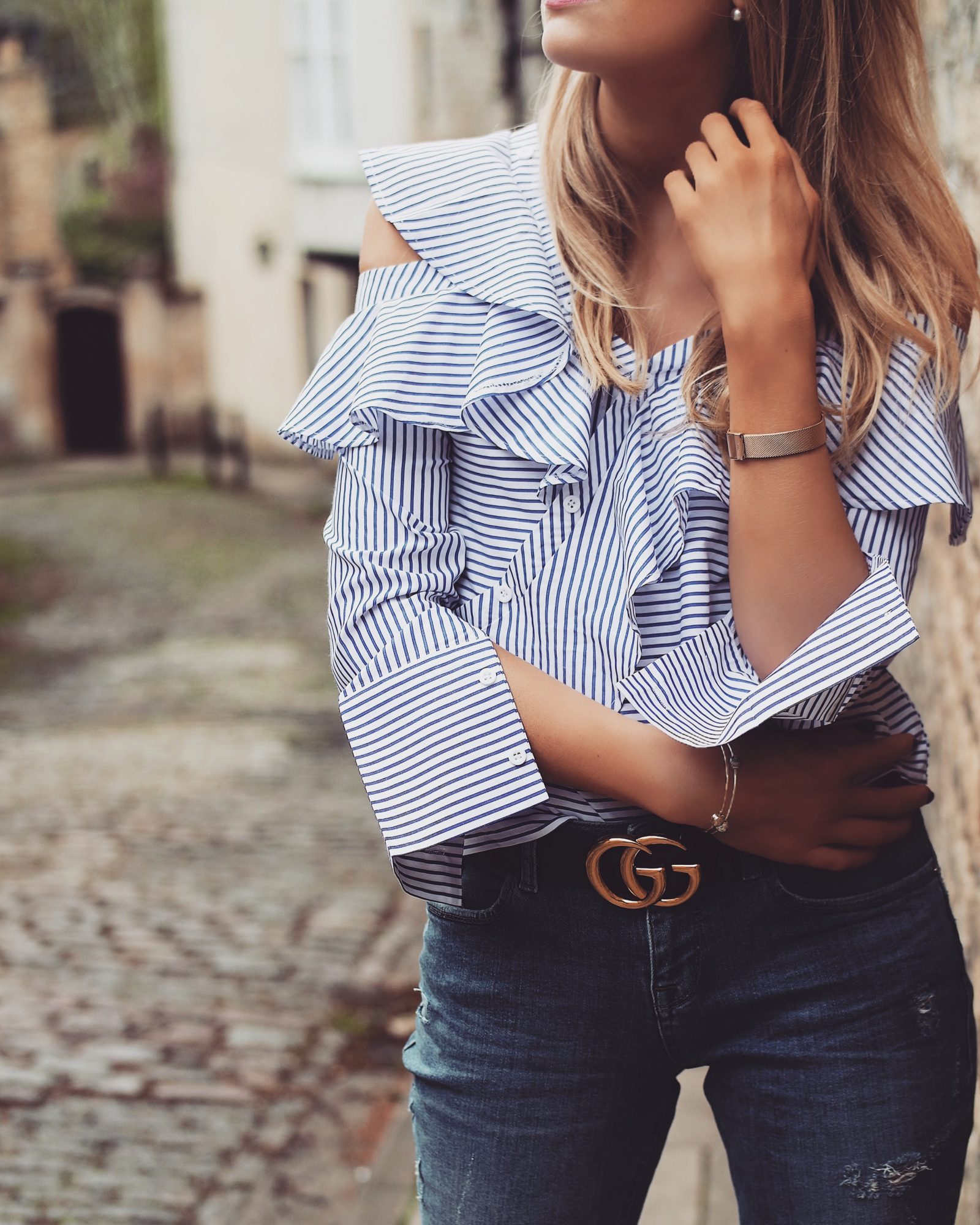 Dupes, I talk about them a lot. What can I say? I've got an eye for a good designer esque piece and who doesn't like to save £200 pound on a top or £2000 on a jumper? We all want that designer look but we may not all have that designer budget. I know I've said this a bazillion times but when it comes to designer peices, I can get on board with shoes and accessories, but clothing . . I don't get it (don't hold me to that though). Self Portrait is the occasion wear brand of the moment and when it comes to party dresses the dupes are rife. I've linked lots later in the post but you all know I'm not a huge party girl so it wasn't until I spied this blue and white striped, cold shoulder, self portrait dupe that I fell hook, line and sinker.
Shop The Post
The £14 Self Portrait Dupe
Of course a clothing dupe always works better when paired with some authentic designer accessories. No one's going to think the tops a fake when I'm wearing it with my Gucci belt and Balciaga boots right? But even if you don't have the budget for the accessories and no one else in your town has even heard of Self Portrait (guys, you're preaching to the choir) it's still a beautiful £14 top. Those ruffles, the buttons, the wide cuffs . . yes yes yes. I would recommend to go up a size in this top as I went for a small and in hindsight would have gone for a medium, but hey if you like the fit on me then ignore everything I just said! I've done a little demo for you below on the self portrait real deal against the self portrait dupe and for £14, who can see that much of a difference?! Personally, I'd take the dupe everytime!
P.S . . who else is loving my yellow sunglasses? I tell no lies, they genuinely make life look like it's wearing an instagram filter when you have them on. Who ever said anything about rose tinted glasses? We need yellow tinted glasses people!
Self Portrait V Sheinside
More Self Portrait Dupes
If you're new around here (hi!) I do a weekly widget on my home page which combines the best dupes on the high street with their designer originals – you should really check it out, as I said before I'm good.
Outfit Details
Sunglasses : Asos
*Top : Sheinside
Belt : Gucci
Jeans : River Island
*Watch : Daniel Wellington
*Gold Bracelet : Pandora
*Silver Bracelet : Pandora
*Earrings : Pandora
*Tan : Vita Liberata
All items marked with an asterix were gifted to me.
AMAZING NEWS!! I've been nominated for Fashion Blogger of the Year by Blogosphere Magazine!!! If you love my blog then be sure to vote for me here! Thanks so much in advance!