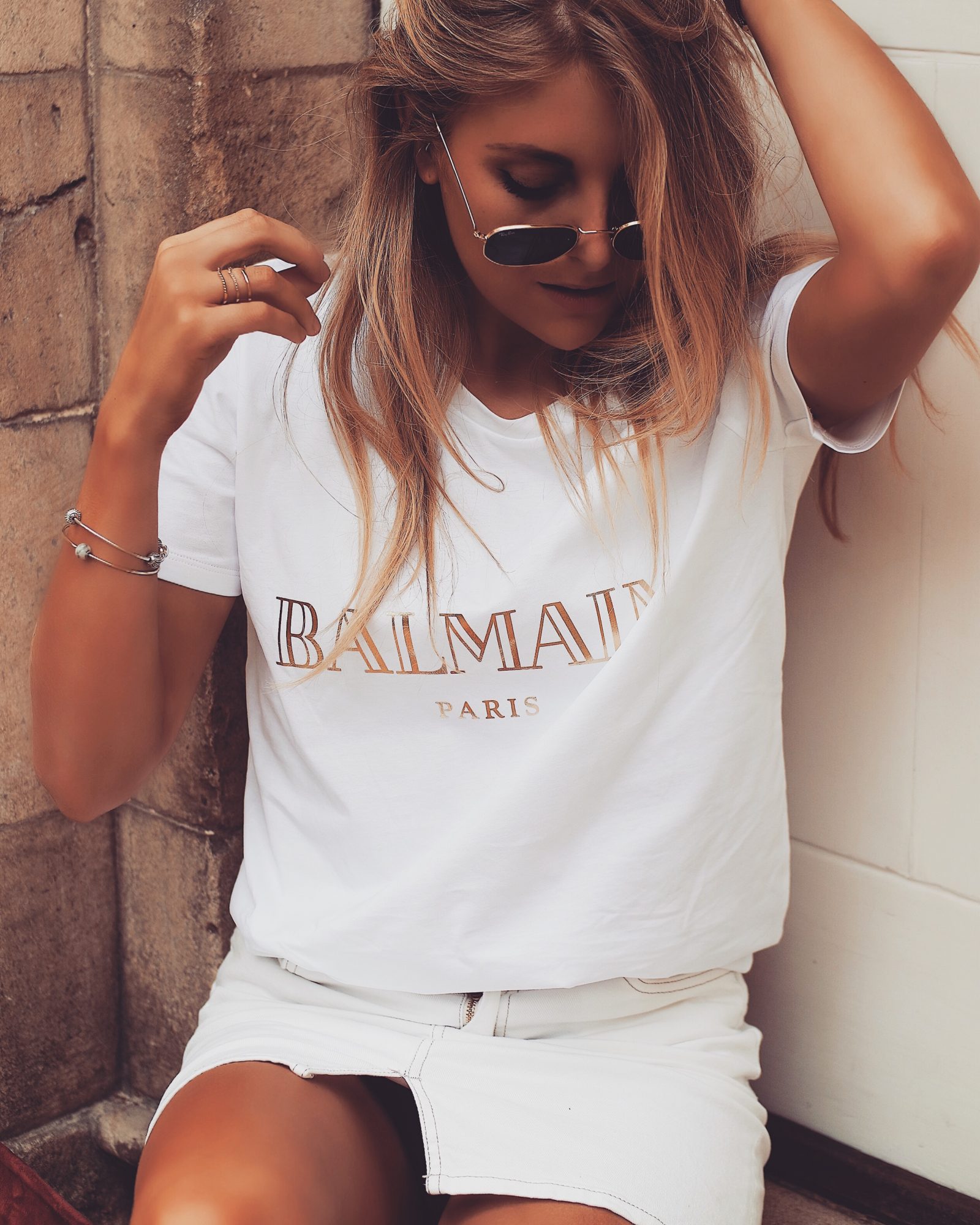 The designer slogan tee, the trend I avoided at all costs and as such spent quite possibly the same amount as I would have spent on one anyway by trying my best to fill the void with high street alternatives. Seriously guys my collection is extensive. So having finally caved on this Balmain beauty from Farfetch. I thought I'd give my two cents on if it's worth it and why I chose this one in particular.
Shop The Post
The Designer Slogan Tee
Lets take it back to the beginning of the designer slogan tee timeline when we were all lusting over that Gucci tee. Then there was the Ganni tees which just kept on coming. The Prada Spice Girls tee, the YSL american flag and what finally broke it for me, the Balmain. But why Balmain?
Firstly, I spotted this one on farfetch for just over £150. A lot for a t shirt, I agree, but when it comes to designer clothing it's pretty tame. Even the slogan tees are generally over £200 with Ganni's being an amazing exception at £45. When it comes to designer items I have to have that feeling, you know the feeling you get when you see your crush? Yeah that. This tee was giving me all of the butterflies and with that insane and typically Balmain gold button detail, it just felt a bit more worth it.
Designer Slogan Tee Run Down . .
High Street Slogan Tees To Fill The Void . .
All White E'rrythang
I went for a clean all white look with this denim skirt which FYI I have pretty much replaced my sheinside skirt with, something I didn't think possible. To me, gold white and black are the most perfect colours together and the pop of red from good old Faye was the perfect finishing touch. I'm still in the wearing in process of these boots and pretty much PRAYING that one day they'll be as comfortable as I heard they were because right now I can't walk up the street without breaking out in blisters, I'd still buy them again #noregrets. Anyway, I think they look pretty damn amazing with dresses or skirts and a tan . . the perfect accessory of course.
Outfit Details
*T Shirt : Balmain @ Farfetch
*Skirt : Other Stories
Boots : Balenciaga / Affordable Alternative
Bag : Chloe / Affordable Alternative
Sunglasses : Rayban / Affordable Alternative
*Watch : Henry London
*Silver Bracelet : Pandora
*Gold Bracelet : Pandora
*Ring : Astrid & Miyu
*Tan : Sienna X
*All items marked with an asterix were kindly gifted to me