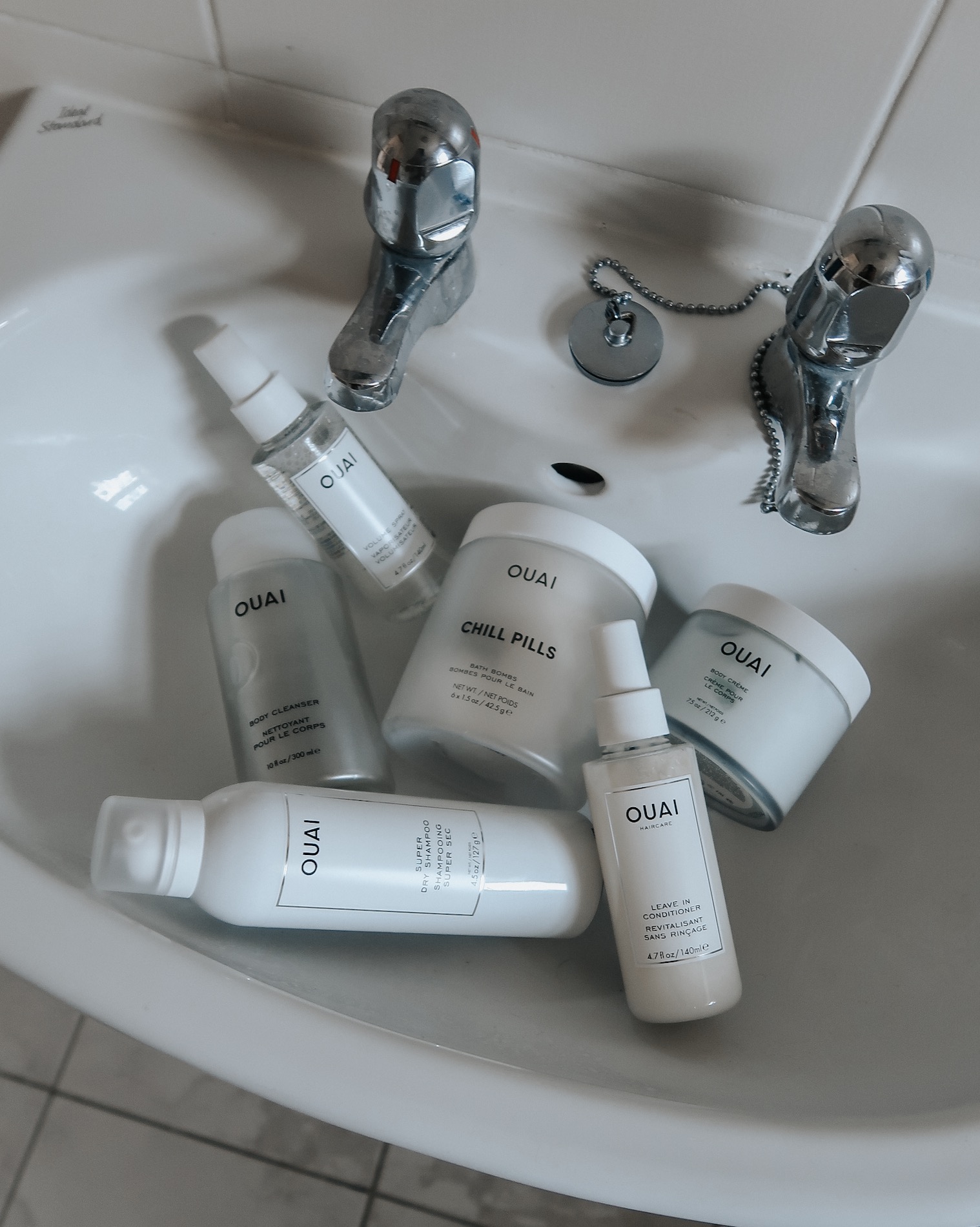 So if you guys have seen my blog post on ways I like to calm my anxiety in general and specifically in uncertain times like these then you'll know that one of my favourite things to do is to have a good old pamper session! So I thought I'd let you into my little pamper routine and list the products I use to calm down, relax and focus on me.
This post contains affiliate links and gifted items
Click on the images below to shop




My Favourite Products For A Home Pamper Session
Some of these are new ish and some are products I've been using for my home pamper a while so I will let you know as I go through and give you the best opinions I can on them! All of them are favourites of mine though!
OUAI CHILL PILLS
The name of my first home pamper fave is just genius. The Ouai chill pills something quite frankly we all need to take right now don't you think?! They're little bath bombs in the form of a pill which I find hilarious and I tell you what, not only do they chill me out but they smell incredible. Is it even worth running a bath if you don't add a bath bomb though? The best thing about these ones are they are white and disperse so you don't end up stepping into a unicorn pink bath, personally I would need a shower after if I did this and definitely couldn't relax!
Shop The Ouai Chill Pills Here
OUAI BODY CLEANSER
OK so this is a bouji shower gel but it does feel different to your average and again the smell is incredible. I got this and the pills and the next one all together in a care package and they all work so well together! It feels more luxury when you're putting it on for your home pamper, something about the consistency of it, and you don't need much, it goes far!
Shop The Ouai Body Cleanser Here
OUAI BODY CREAM
The final body product I use and another Ouai one is the body cream. I've actually just run out of this and I legit scrapped the bottom of the pot. It's so so good and smells incredible just so clean and fresh, I'm not a fan of heavily perfumed moisturisers whether its for the body or the face. It's also super light and sinks in quickly! I like to spend a good 5 to 10 minutes moisturising in the bathroom after my bath to give my skin a little extra love, all part of that home pamper experience!
ELEMIS ROSE CLEANSING BALM
This is one I just don't shut up about and even if I've not been wearing make up which, let's face it I haven't been most days, I still love to cleanse as part of my little pamper routine. I love the original cleansing balm too but the rose one just smells incredible and feels that bit more gentle on the skin.
You can use code RADIANCE15 for 15% off your first Elemis Purchase
Shop The Elemis Rose Cleansing Balm Here
Shop The Elemis Original Cleansing Balm Here
MALIN & GOETZ CLAY MASK
This is a new product I've only used 3 or 4 times, once a week really as it feels quite harsh and I have sensitive skin. It's a clay mask that sort of exfoliates as it feels like it's got bits in it so it feel like it's exfoliating both when you put it on and take it off. So far I'm really enjoying using it and can definitely see the results!
Shop The Malin & Goetz Clay Mask Here
ELEMIS HAIR MASK
This is another long term fave of mine and something I always feel like I don't have the time for usually but now that I feel my time is endless, I can sit in the bath with my hair mask on having a little home pamper for 20 minutes with no shame. Of course this has amazing effects and makes me hair super soft, yada, yada, yada. But let's be real, the reason I love this so much is the smell! I am obsessed with anything from the Frangipani range at Elemis because it's just heaven! The most incredible smell! I love the body wash and body cream too!
You can use code RADIANCE15 for 15% off your first Elemis Purchase
Shop The Elemis Frangipani Hair Mask Here
Shop The Elemis Frangipani Shower Cream Here
Shop The Elemis Frangipani Body Polish Here
SISLEY OVERNIGHT MASK
So I know Sisley is a pricier brand but there are lots of offers on everywhere at the moment so I will link it below where I can find it at it's cheapest. I love sisley skincare, it's definitely worth the price tag and something I would highly recommend if you were able to splurge on skincare though of course I know a lot of people aren't in that position! Two products I love are the Black Orchid treatment which apparently isn't an overnight one though I have been using it like that for over a year and this is my third bottle of it! The second is one I've just started using in the last few months and LOVE. It's super thick and my skin still feels moist and lovely in the morning too! The velvet sleeping mask. It's insane, especially after using the clay mask from Malin & Goetz which is quite drying, this adds all of the moisture back in!
Shop the Sisley Overnight Velvet Sleeping Mask Here
Shop The Sisley Black Orchid Mask Here
ELEMIS OVERNIGHT EYE TREATMENT
Finally one I've been using for a few weeks now and actually I'm not sure if it's meant to be every now and again but I've been using it every night rather than just for my home pamper, it's the Elemis overnight eye treatment. It's really great and something I've honestly been waiting for my whole life. I have such a complex about my under eyes and can never seem to find a good concealer that will cover up my bags so to find this amazing product that is an intense overnight treatment was a dream come true! It's new on the market but I got to try it before it was released so feel super lucky!
You can use code RADIANCE15 for 15% off your first Elemis Purchase
Shop The Elemis Overnight Eye Treatment Here
PS YOU MIGHT ALSO LIKE THIS 9 Comfy outfit ideas for working from home OR Finding the perfect bedroom rug