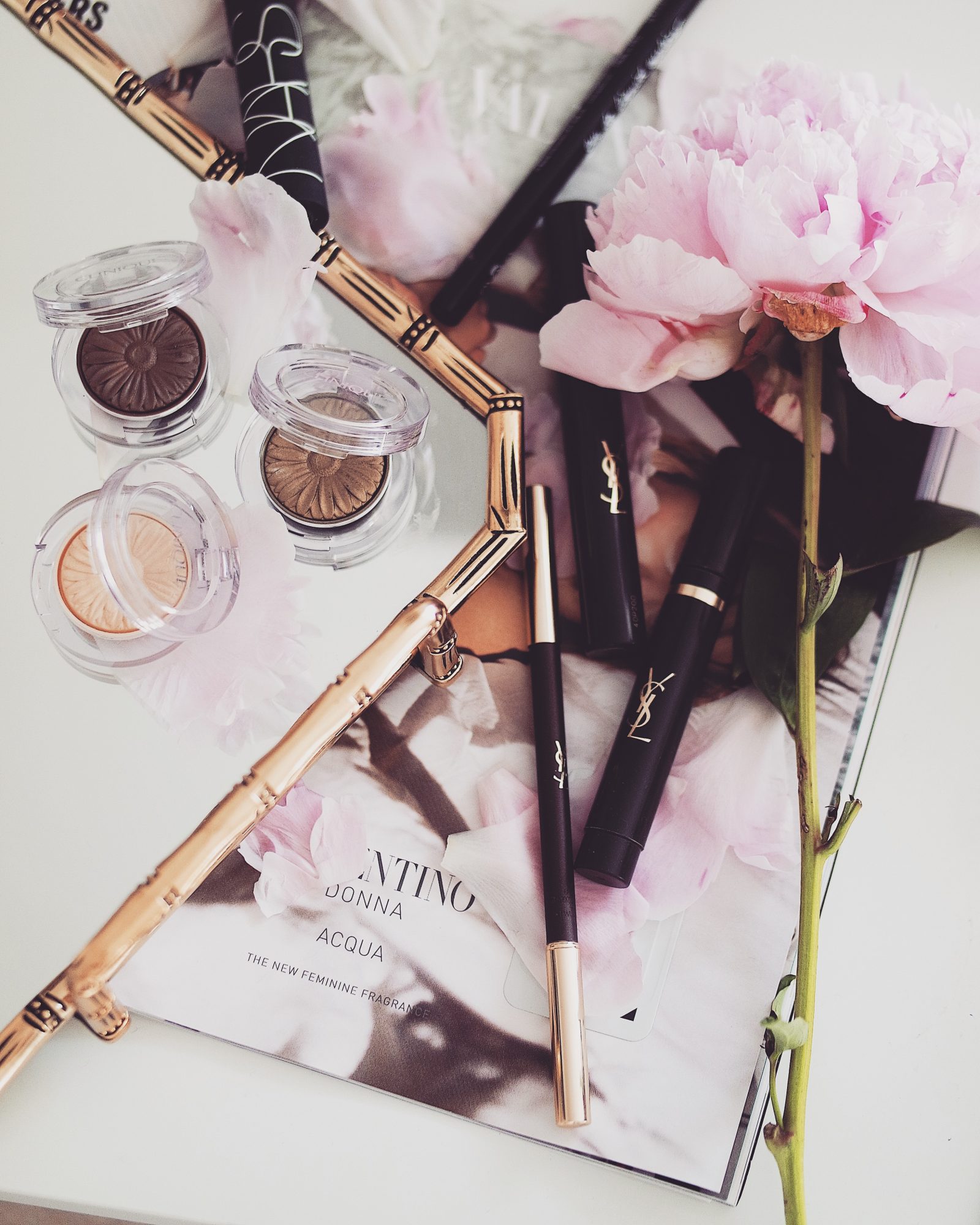 Let me just start by talking about how misleading the title "my travel beauty essentials" is. Specifically the word essentials, because that kind of implies a few things and this is anything but a few things. Quite possibly more than the average girl uses in the every day, but since entering the blogging world the beauty packages have been coming thick and fast. I've got a skincare routine, I wear primer, I contour . . I'm self confessed high maintenance and if anything on holiday I go extra extra.
Travel Beauty Essentials
So some of these products are favourites of mine that honestly I wouldn't even entertain the idea of leaving the house without. You want me to take my make up off without my take the day off cleansing balm . . are you mad? But others are ones I've not tried properly before, no sun and all that, so I'm looking forward to getting to these them out! I'll let you know as I go along which is which and I'm sure by the gushing reviews it'll be pretty clear. Below is number 1 in my travel beauty essentials and something I've only recently got but already fallen in love with. Enough to consider bringing a full sized bottle with me in my suitcase, I do have some old minis though so perhaps I'll be sensible and decant. Either way, the Narcisco Rodriguez Fleur Musc is coming with me.
Holiday Skincare Essentials
Clinique Take The Day Off Cleansing Balm As I said before, this is the only thing I will now take my make up off. Luckily I actually got a set of minis a while bag with this in so now I decant it into the smaller pot and hey presto I'm ready to go! I have super sensitive skin and this is one of the only things I've found to not irritate my skin, no redness, no spots, no nothing.
Avene Face Cream This is a new one I've only been trying for a week really so I'm not sure how valid my review of this is but what I will say is that the holy grail that is Lucy Williams said it was her desert island beauty product and if that's not good enough for you then I don't know what is.
Dermalogica Stress Positive Eye Lift The only eye cream/product that I've ever been impressed by. I swear down I noticed a change in days. After a few weeks, as a previous
Clinique Moisture Surge As with the Clinique cleansing balm, super soft and gentle on my skin and another one I have a cheeky little travel version of I can decant into. I was dubious about Clinique skincare previously as I'd used the toner and found it harsh on my skin about 10 years ago (as if I was using cleanser 10 years ago and that was when I was 17 . . I'm old) and heard horror stories from other people but honestly these products are amazing. I also get the driest skin on holiday so a good face cream is 100% one of my travel beauty essentials.
Clinique Body Moisturiser A new one to me but as we've already established I'm a firm fan of Clinique. I did try this for the first time the other night and it was really lovely and nourishing which is exactly what you need on a holiday with hopefully lots of sun.
Clinique Sun Cream I haven't tried this suncream but I have tried this Clinique sun cream in face and body and was really impressed. Purely because as a serial burner I didn't burn once, even when my olive skinned sister did . . smug or what?
Avene Anti Wrinkle Face Sun Cream A sun cream for your face that has anti wrinkle properties?! Are you kidding me? So basically now when you get ready for the day you don't need to put your face cream and this on, just this. I haven't tried it yet but if it's anything like the moisturiser I know we'll be the best of friends by the end of the trip and this will be firmly set as one of my travel beauty essentials.
Shop My Holiday Skincare Essentials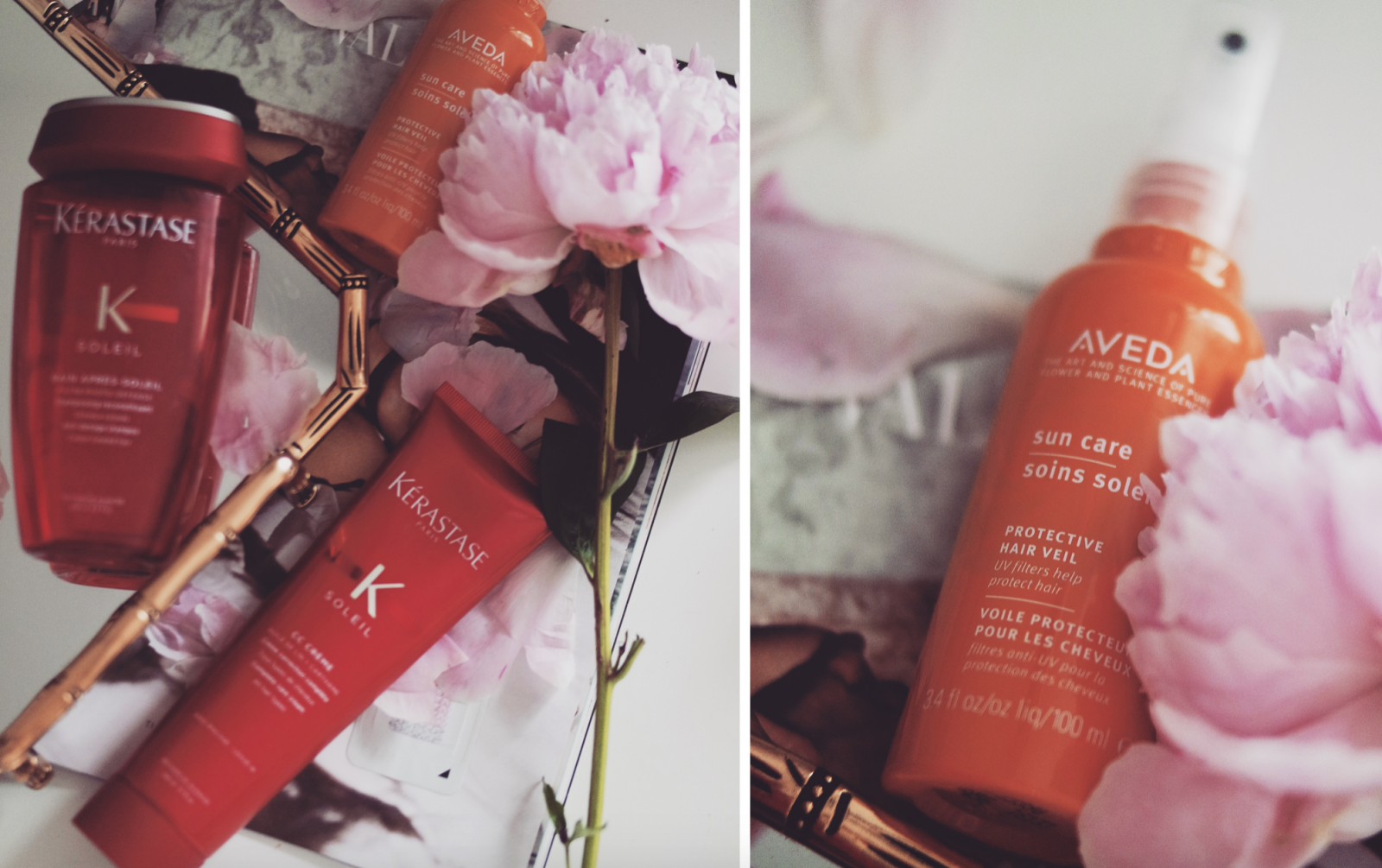 Holiday Hair Essentials
Kerastase Soleil Range My hair dries out a ridiculous amount in the sun and I am a huge fan of Kerastase as you guys already know if you read about my regular hair care routine here. So it was only natural that I'd more on to their Soleil range for holidays. I tried this on my last trip and adored it, the only problem was the hair mask, it leaked everywhere. After the 3rd leakage we parted ways in an angry moment, I shall say no more.
Aveda Protective Hair Veil Another product I haven't tried but it's literally like someones looked at me and my life on holiday and said here, you need this. I burn my scalp. . . every time. I look like an idiot in a hat and there is no hair style that covers my entire patron . . I promise you I've tried a lot. Aveda have created a spray (non greasy if you were worried – I was) to give your scalp protection so you don't burn that pesky partin. I will be sharing my review!
Shop My Holiday Hair Essentials
Holiday Make Up Essentials
Smashbox Photo Finish Primer I've only been using this for a week and already it's a vital part of my make up routine. Moisturising and a primer, anything a girl could want in a product. It's the perfect base for your make up and combined with a good powder literally keeps my make up on all day long.
Giorgio Armani Lumionous Silk Foundation I mentioned it in my favourites video for June here and I stand by that. This foundation is the first one I've tried that's got me excited in a while and I've had so many compliments on it, people are always asking about the foundation I'm wearing which can only be a good sign!
Nars Multiple Highlighting Stick I feel like the term "highlight on fleeeeeeek" was made for Nars highlighting stick. I have the shade Copacabana and this babe is all kinds of highlight goals.
Giorgio Armani Bronzer I'm a sucker for presentation and this may just be the prettiest bronzer I've ever set my eyes on. It also gives a gorgeous bronzed glow that's just a little sun kissed, not too harsh. I love this for keeping in my handbag as well as it comes with a little brush so it's one less thing to pack.
Clinique Eyeshadow Pots Not only are these tiny little pots of joy B – E – A – dutiful in the pot, they're also perfect on the eye. I'm only just getting into my shadows so the creamy, golden tone is my go to right now.
Eyeko Liquid Liner I have to be honest this isn't the most pigmented on me so I do have to go over it more than once, but the precision is insane. I am terrible at winged eyeliner and with this even I can do it. They should have called it winged eyeliner for idiots, and for that, it's worth the extra layer.
Nars Audacious Mascara I know this is a bold statement to make but this may just be the best mascara I've ever tried. It was actually my boyfriend that introduced me to this. He got me it as a stocking filler after doing his research – I know – and I've never looked back since.
YSL Brow Products ( Pencil, Marker & Mascara ) Sounds excessive I know. Before I would have laughed at someone who was using 3 products on their eyebrows but they are so good I can't choose between them. This is how it goes, marker for the fronts, pencil to draw in the ends and mascara throughout. Try it, you won't look back.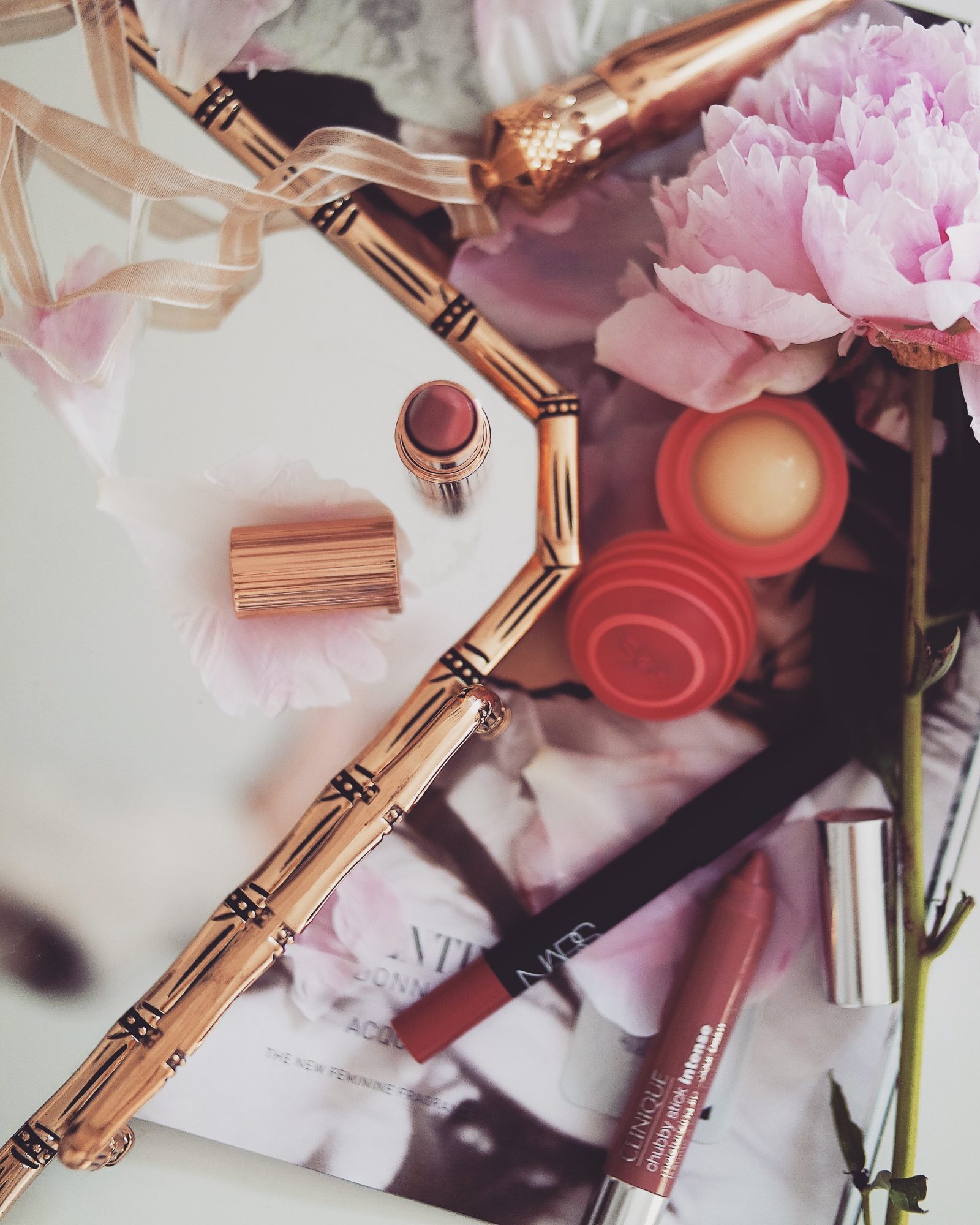 EOS SPF Lip Balm I've not tried this properly yet though is tastes like a dream, very important for lip balm. I'm always on the lookout for the best lip balm, it's a constant struggle since my fave Nivea one got discontinued. The fact that this has SPF in it is amazing because I never think about protecting my lips! This is also one of my travel beauty essentials for the flight, hands up if you get the worst chapped lips!?
Clinique Chubby Stick – Curviest Caramel The perfect lip colour for your lips but better. It just enhances the rosiness and has the most moisturising feel to it. I swear I never leave the house without this in my handbag anymore, it's not just one of my travel beauty essentials, it's one of my everyday beauty essentials.
Nars Velvet Matte Lip Pencil – Dolce Vita For a matte lip this is super comfortable and easy to wear. The colour is slightly more intense than the chubby stick so I tend to go for this one if I want to be slightly more fancy. Only slightly though.
Charlotte Tilbury Lipstick – Pillow Talk I'll be honest. I've never tried the lip liner and I only really got this out of pure curiosity of what the hell was all the fuss about. I get it. I well and truly get it. This is a beautiful colour, the perfect pinky nude and also, hi rose gold packaging, how could you not fall in love?
Christian Loubutin Lipstick – Me Nude Holy Jesus I have never had such a fancy lipstick. Possibly too fancy for my travel beauty essentials but it's new so I had to include it and I want to take it! Never did I ever see myself holding such a piece of art which is exactly what this is. I actually have the most incredible shade too! So much more wearable than what I was expecting it to be and when you put it on, my god you can feel the quality, creamy heaven. That sounded weird.
Shop My Holiday Make Up Essentials
I also did a youtube video here where I showed you guys what and how I pack when I go on holiday! And if you want to see what my absolute favourite nude lipsticks are (this was before I brought the Charlotte Tilbury FYI else it would be in there!!) go and have a peek at this post!